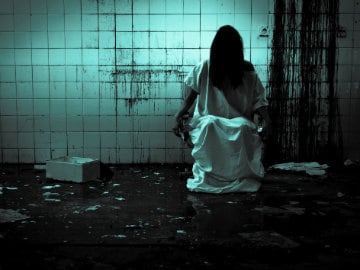 Kolkata:
Despite her tomboyish nature, 'Bojhena Se Bojhena' and 'Proloy' actor Mimi Chakraborty is mortally scared of staying put in a haunted house.
Mimi, who is playing the part of a warrior princess in Raj Chakroborty's period flick Yoddha, reveals how the shooting experience in 'Galpo Holeo Sotti' had that spooky feeling as she constantly felt being watched by someone, some invisibles keeping a tab on my shoots.
"Galpo Holeo Sotti had been made some time ago. But even today, I feel haunted. I still get scared to be all alone in a room. I have had many experiences," Mimi said.
Mimi was talking to PTI after the first ever trailer launch of a horror-thriller genre Bengali film on YouTube by maker Birsa Dasgupta giving a peek into the film's macabre blood- ripping frames.
"Golpo Holeo Shotti promises a very fresh view as films within the horror-thriller format had been very rarely made in Bengali," Birsa said.
Haunting sound effects, sudden jerks and visuals provides moments of horror," producer Mahendra Soni said.
The film, produced by Soni and Srikant Mohta of Shree Venkatesh Films, also stars Rajatava Dutta.Sayoni Ghosh and Neel Mukherjee in supporting roles.