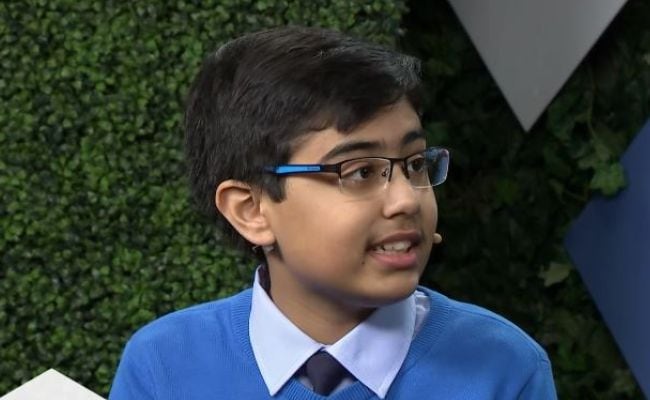 Highlights
Tanmay Bakshi, 12, is one of the youngest app developers in the world
His address at the IBM DeveloperConnect on Friday has everyone talking
The young genius has been trending on Twitter
Most pre-teens usually have only school, sports and friends on their mind. But then again, 12-year-old Tanmay Bakshi from Canada isn't like most kids his age. A programmer since he was five, Tanmay is one of the youngest app developers in the world. And his address at the IBM DeveloperConnect in Bengaluru on Friday has everyone talking about him.
Trending on Twitter, Tanmay's talk at the meet details, among other things, his algorithm called 'AskTanmay,'
described as
"the world's first Web-Based NLQA System, built using IBM Watson's Cognitive Capabilities." The eight-step algorithm can apparently solve queries related to a 'PERSON,' 'ORGANIZATION,' 'LOCATION,' or 'DATE' answer type.
The young genius, who loves to share his knowledge, began his talk by mentioning his new book and his wishlist, which includes getting said book signed by actor Amitabh Bachchan.
Take a look at Tanmay's talk through this Periscope posted earlier:
LIVE on #Periscope: 12 Yr old coder Tanmay Bakshi on Stage at #IBMDevConnecthttps://t.co/NwU0Q4nfwq

- Shreya Sharma (@shreya_08_92) June 17, 2016
Tanmay's achievements are so impressive, Twitter cannot stop talking about him.
Tanmay Bakshi an inspirational coder for all of us..#IBMDevConnect

- What's Next (@imKartz) June 17, 2016
It's kids like tanmay bakshi who make lives of normal kids around them difficult

- .... (@drsaem) June 17, 2016
"The world needs more developers," Tanmay Bakshi, 12-year-old software developer and entrepreneur, pic.twitter.com/3S7BEbOjpw

- Swachh Politics (@SwachhPolitics) June 17, 2016
Tanmay Bakshi:- a developer, author, speaker @ the age of 12.

When i was 12,
What was I doing??

Playing marbles?

- Nishant Chaudhary (@ncnishant) June 17, 2016
Tanmay Bakshi..An inspiration for all the coders out there. He's just 12 & addressing 10k coders in #IBMDevConnectpic.twitter.com/wbcx99dn6g

- Rajni Yadav (@yadavrajani610) June 17, 2016