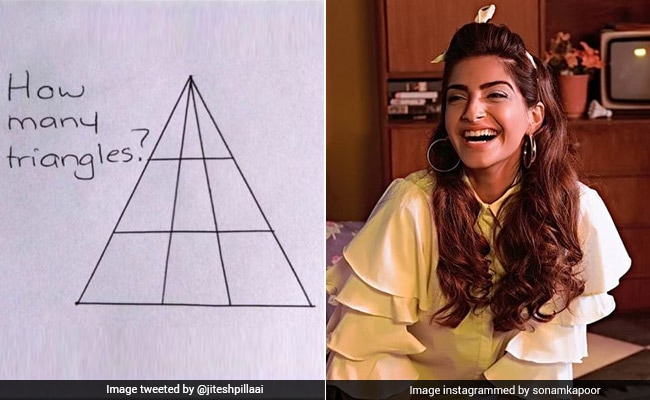 If there's one thing people love on the Internet, it's puzzles. One random post or WhatsApp forward about a question based on reasoning or logic, or a picture showing a mathematical problem and most people on social media will try to solve it. The more answers the puzzle gets, the more people either want to either debunk it or explain how that answer was achieved. Sometimes, things even get ugly as people turn on one another and get mean trying to prove their conclusion is the best. That's basically what happened after Filmfare magazine editor Jitesh Pillaai posted a puzzle and actor Sonam Kapoor shared what she thought was the correct answer.
About two hours before writing this, Mr Pillaai posted this puzzle. It simply asks people to calculate the number of triangles in the picture and share the answer.
Say? pic.twitter.com/lrhXrWw5EP

- J (@jiteshpillaai) April 9, 2018
The puzzle seems interesting, right? Well, just like everyone trying to find the right answer, the Neerja actor also tweeted what she thought was the answer.
April 9, 2018
Turns out, Twitter couldn't handle the wrong answer given by the actor. She was immediately trolled by Twitter's mathematicians. (Because, OMG, how dare a celebrity do something to prove they're - gasp - human. Chill, Twitter!)
April 9, 2018
Correct ans is 18. Go n take tuition from Prodigal Science pic.twitter.com/vt8zb1Okfv

- Rahul Bhagwat (@rahulbhagwat28) April 9, 2018
April 9, 2018
Guess what, Twitter. Sonam has a better sense of humour than you. She subsequently posted these two tweets, not only accepting that her answer was incorrect but also admitting that she doesn't know the right answer.
Terrible at math

- Sonam Kapoor (@sonamakapoor) April 9, 2018
Hahahahaha as soon as I tweeted it I knew I was wrong and still don't know the answer lol

- Sonam Kapoor (@sonamakapoor) April 9, 2018
"Acknowledgement of being terrible at math is way better than the relentless stabs most (not quite) mathematicians take at these answers on the social media," said a Twitter user. We couldn't agree more.
Anyway, back to the puzzle. In case you were wondering, most people suggest the correct answer is 18.
April 9, 2018
Last year, a similar
quiz on triangles
went viral.
Tell us what you think is the right answer in the comments section.Click for more
trending news