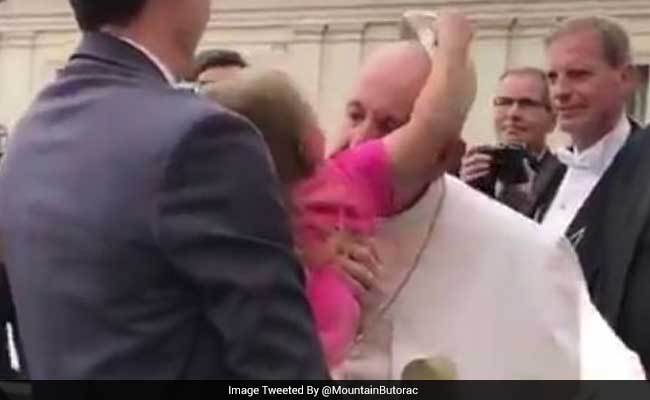 New Delhi:
Kids are carefree beings. They just tug, grab and throw anything within their reach, not worrying about the consequences. So, when 3-year-old Estella met the Pope in Rome, she really didn't care that he was the head of the Roman Catholic Church and did something that made even the Pontiff chuckle. As Pope Francis leaned in to plant a kiss, she sneakily reached out for his cap trying to steal it. "Right before she went up she was a little nervous. Then she stole his hat. It was hilarious, everyone was laughing including the Pope", her godfather Mountain Butorac told
CNN
.
See the little girl in action here
Took my Goddaughter to meet the pope. She stole his hat! pic.twitter.com/SdSorop3uN

— Mountain Butorac (@MountainButorac) March 22, 2017
Estella was accompanied by her godfather who posted the video on Twitter. Within four hours, the video was shared nearly 2,200 times.
@MountainButorac what a wonderful memory you all will have forever. Beautiful! Thanks for sharing

— Lisa (@hahnylisa) March 22, 2017
@MountainButorac Awww! What a wee sweetheart..She probably stole his heart, too!

— Fi (@Mysterymoon6) March 22, 2017
@MountainButorac That's so funny! Lovely little girl got to make the Pope and everybody else laugh. Take care!

— Jos Sibaja (@josemsibaja) March 22, 2017
@MountainButorac@exsacerdotal Should have gone for his wallet.

— George Smiley (@364690) March 22, 2017
@MountainButorac kids do the darndest things ever. Such an innocent child. God bless @Pontifex such an amazing symbol of peace worldover

— Olufunke Ogunseinde (@Funkemyfun) March 22, 2017
In 2015, a little baby caught Pope's attention during his visit to America. Dressed in full Papal attire, the infant named Quinn Madden had the Pope in splits when he saw him in the crowd.