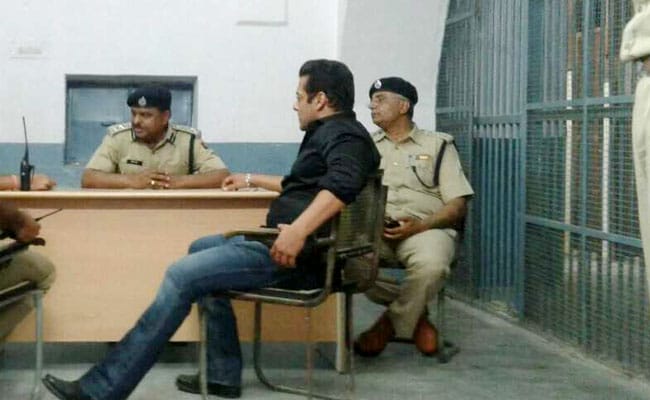 New Delhi:
Salman Khan, one of Indian's biggest Bollywood stars, was today
found guilty
of killing blackbuck near Jodhpur in Rajasthan 20 years ago. Salman Khan was held guilty of killing two blackbucks - an endangered species that is protected under the Indian Wildlife Act - and has been sentenced to five years in jail and fined Rs 10,000 for the incident that took place in 1998. Other actors accused in the case - Saif Ali Khan, Sonali Bendre, Tabu and Neelam - were all acquitted. They were all facing charges under the Wildlife (Protection) Act. The verdict led to many reactions on Twitter, where the actor soon began to trend. In fact, the hashtag, #BlackBuckPoachingCase is the top trend on Twitter in India - and has been all morning.
Salman Khan was taken to the Jodhpur Central Jail where Asaram Bapu is also lodged.
While some applauded the verdict, others cracked jokes. See some of the memes below:
Today: #SalmanKhan convicted in the #BlackBuckPoachingCase.

Later:
Salman out on bail.

Even Later:
Salman launches "Being Black Buck" t-shirts.
3% profits go to charity.

More Later:
Salman fans applaud Salman for being a conservationist.
"Tiger Innocent Hai" makes $2 billion.

- Sorabh Pant (@hankypanty) April 5, 2018
#BlackBuckPoachingCase

Manyata Dutt - Why didn't you get a bail?

Sanjay Dutt - pic.twitter.com/PPsnw7495j

- SAGAR (@sagarcasm) April 5, 2018
Salman Khan found guilty in the #BlackBuckPoachingCase.
Finally, some justice for that blackbuck's great-great-grandchildren.

- Ramesh Srivats (@rameshsrivats) April 5, 2018
Salman khan will get 3 yrs and the sentence will be immediately suspended till appeal to a higher court, and then Harish Salve will swoop in.

- Gabbbar (@GabbbarSingh) April 5, 2018
Vivek Oberoi has sent tiffin for Jodhpur court judge. #BlackBuckPoachingCasepic.twitter.com/1InsCdz4wP

- Bollywood Gandu (@BollywoodGandu) April 5, 2018
Judge: Why did you come to Jodhpur in 1998.
Salman Khan: To shoot...
Judge: You have confessed. GUILTY.
Salman Khan: ... Hum Saath Saath Hain.
Judge: You have confessed again. ALL OF YOU ARE GUILTY.#BlackBuckPoachingCase

- Ramesh Srivats (@rameshsrivats) April 5, 2018
There were also those who came out in support of Salman Khan, known popularly as Bhai to his fans:
I know for a fact that @BeingSalmanKhan has not killed the #BlackBuck. I am 100 percent sure he will be declared innocent finally. #BlackBuckPoachingCase

- Priya Gupta (@priyagupta999) April 5, 2018
We Did in Past
We are doing Now
We will do it in Future



Support and Stand for Salman Khan..

He will come out more Stronger...- Lafanga (@chupbesaale) April 5, 2018
The blackbuck poaching case dates back to the night of October 2, 1998, when Salman Khan
allegedly shot and killed
two blackbucks in Mathania village of Jodhpur. Accompanying him were actors Saif Ali Khan, Sonali Bendre, Tabu and Neelam - all of them shooting for
Hum Saath Saath Hain
. Salman Khan's co-stars were acquitted today for lack of evidence. In October 1998, they were believed to be in the Gypsy that Salman Khan was driving during the alleged hunt near Jodhpur.
The blackbucks were shot dead near a village of Bishnois, a community that revers the animals and is passionate about protecting them. According to the prosecution, Salman Khan spotted a herd of blackbucks and shot dead two of them.
But in an interview to NDTV in 2009, Salman Khan had said that he had "saved the deer" and fed it.
Salman Khan has also been accused of killing two chinkaras and a blackbuck in September 1998. In all, three cases of poaching and one under the Arms Act were registered against Salman Khan in 1998.
Click for more
trending news