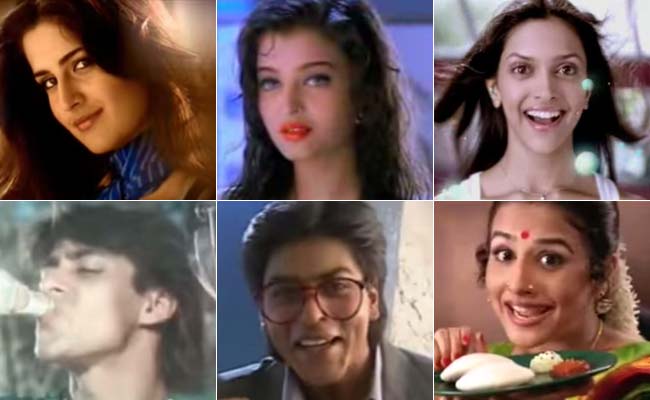 They've ruled Bollywood from the time they first appeared on the silver screen. Deepika Padukone's wave in
Om Shanti Om
, Preity Zinta's dimples in
Dil Se
and Vidya Balan's girl-next-door look in
Parineeta
stole a million hearts. What was even better was that all these stars proved they had the acting chops to make it big in the industry with power-packed performances.
Do you, however, remember where and when you first saw these stars? That's right; these debut performances weren't their first on-screen offerings. We've compiled a list of ad films these brilliant stars did way before their first movies. Prepare to have your mind blown.
1.Deepika Padukone:
Like we said,
Om Shanti Om
wasn't the first time you saw Deepika's '
Ajab Si Adayein
'. She flashed her million watts smile and adorable dimples first in a toothpaste commercial. Take a look at the video below. All we can say is that Deepika was 'Lovely' then and even lovelier now.
2.Aishwarya Rai Bachchan:
Much before she was crowned the most beautiful woman in the world, Aishwarya was better known as 'that-hot-girl' from 'that-Pepsi-ad'. The commercial also features THE Aamir Khan and the future-Mahima then-Ritu Chaudhary, but it was Sanju (her name in the ad) who stole the show hands down.
3.Shah Rukh Khan:
Before he became the
Baadshah
of Bollywood, King Khan appeared in this motor bike ad from the '90s. And that too in two very different avatars. Looks like this ad was SRK's way to tell the world, "Hello! I'm here to stay."

4.Salman Khan:
Before
Maine Pyar Kiya
, and even before
Biwi Ho to Aisi
, "
sabki aan, sabki shaan... sab ka ek bhai-jaan
" Salman Khan was seen in a cold drink commercial. Watch and swoon ladies.
5.Priyanka Chopra:
Fresh from her victory at the Miss World contest Priyanka did this hair oil ad. Can you even recognize the
Desi Girl
here?
6.Katrina Kaif:
Was the ad below inspiration behind the song
Sheila Ki Jawaani
? This really just proves that Katrina Kaif
kissi ke haath na aani
.
7.Vidya Balan:
We all remember her from
Hum Paanch
and Euphoria's popular song
Kabhi Aana Tu Meri Gali
. But do you remember Vidya playing a South Indian wife in this ad below? Let's just agree acting goddess Vidya can don any role.
8.Preity Zinta:
Before all her fantastic movies and way, way before her IPL stint, the bubbliest girl in Bollywood started off by starring in the chocolate commercial below. Can you spot the difference?
9.Shahid Kapoor:
He started his career in the world of entertainment way before all the stars in our list. Who could've guessed what amazing tricks the
Haider
star had up his sleeve?
10.Rajkumar Hirani:
Long before he won your heart with his brilliant movies, Raju Hirani was an ad man. Take a look at this rare ad in which the extraordinary director features in front of the camera.