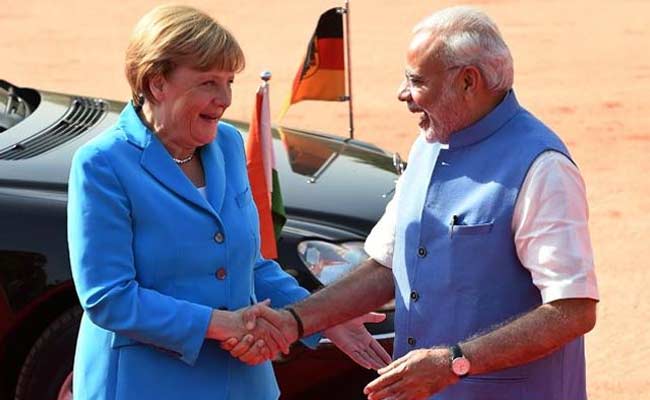 It is not just their words that are in sync these days. Prime Minister Narendra Modi and his guest German Chancellor Angela Merkel, seen in complementary colors today, almost wore the same shade of blue yesterday during their meeting in the Capital.
In Bengaluru to talk about technology today, Ms Merkel is wearing a pastel pink jacket while PM Modi is in an off-white Nehru jacket.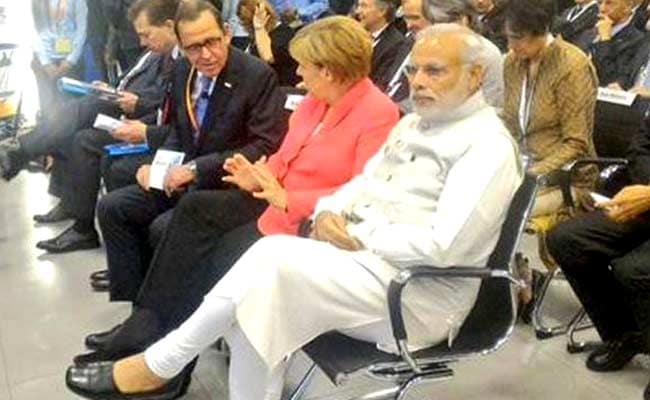 However, the similarity of their jackets yesterday was hard to ignore. The matching colours were most marked when the PM and the German Chancellor appeared side by side to address the press after a three-hour meeting.
The PM wore a white half sleeved Modi kurta, with a Nehru jacket in a soft hue. Ms Merkel teamed her sky blue blazer with a pair of black trousers.
Social media was soon abuzz with witty one liners.
The matching colours of diplomacy. pic.twitter.com/7FdkpvTYQn

- Ashok Lalla (@ashoklalla) October 5, 2015
So apparently the biggest news about #MerkelinIndia and her interaction with Modi is that they got matching jackets.

- M. D. (@AemDoor) October 5, 2015
#Merkel and #Modi: check out the matching sky-blue outfits! German-Indian goods to look forward to. Please, no VW. https://t.co/ruHn9iUF3j

- Sushma Joshi (@joshi_sushma) October 5, 2015
@MEAIndia@PMO@GermanyDiplo Angela Merkel & Modi in Blue,it signifies Trust.They r Natural Allies.Germany's Capital&Tech & India's manpower

- pradeep godara (@pradeepgodara) October 5, 2015
The two sides signed 18 agreements and PM Modi hailed Germany as India's "natural partner." This is Ms Merkel's first visit to India after PM Modi took office.
The Prime Minister greeted the German Chancellor after the meet and had greeted her with a "namaste" as she arrived. Germany is India's most important trading partner in Europe.
Very pleased with the discussions with Chancellor Merkel & the broad range of outcomes that will benefit our nations pic.twitter.com/jLHFpHZGOW

- Narendra Modi (@narendramodi) October 5, 2015