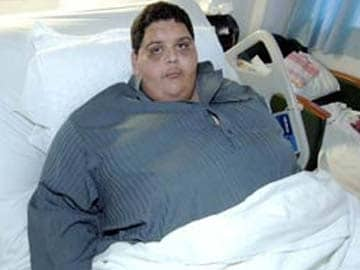 Riyadh:
An obese Saudi Arabian man, weighing a staggering 610 kgs, has shed 320 kgs after a concerned Saudi king ordered him hospitalised months ago.
King Abdullah had ordered Khalid Mohsen Al-Shaeri to undergo treatment in Riyadh in August.
Suffering from extreme obesity, Shaeri from Jazan was successful in cutting down his weight from 610 kg to 290 kg following specialised treatment at the King Fahd Medical City (KFMC) in Riyadh.
Losing 320 kgs in four months is a record, Arab News quoted medical experts as saying.
Shaeri's treatment has now reached an advanced stage, Dr Ayed Al-Qahtani, consultant, laparoscopic surgery and obesity at KFMC was quoted as saying.
His heart and lungs are functioning properly and the medical team treating him has reported considerable improvement in his muscle power and ability to move his legs.
"We have also manufactured a custom-made huge wheelchair for him. This again is a record in that it is the largest medical chair in the world," Mr Qahtani was quoted as saying.
Twenty-one consultants and 15 nurses besides his mother have been taking care of Shaeri.
In the first three months of treatment, he lost 150 kg. A surgical operation of the abdomen helped him lose a further 170 kg.
"We have been providing him with special food imported from the US," Al-Qahtani said.
Before his admission to hospital, a medical team visited Shaeri at his house in Jazan where he was given treatment until he was brought to Riyadh.
In the past, Shaeri used to sleep on three beds and now he sleeps on one.