New Delhi:
Every year, the second Sunday of May is
celebrated
as Mother's Day across the world. All of us would agree that mothers deserve more than just a day dedicated to them. We often forget to appreciate our moms for their sacrifice and love. Being a mother is hands down the most demanding job of the world and they do it so selflessly without ever complaining. While we can never repay our mothers for their love and devotion, we can at least devote all our time to them on Mother's Day.
There are many things you can do for your mom on Mother's day. You can make a DIY
gift
for her, take her out for a special meal and even spend the entire day with her. Yes, put that phone on silent. You can always let her know with words what she means to you.
Here are 10 quotes you can share with your mom this Mother's Day to express your love and gratitude for the most special woman in your life:
1. "God could not be everywhere, and therefore he made mothers" - Jewish proverb
2. "Dan clung to her in speechless gratitude, feeling the blessedness of mother love, - that divine gift which comforts, purifies, and strengthens all who seek it." - Louisa May Alcott
3. "A mother's love for her child is like nothing else in the world. It knows no law, no pity, it dates all things and crushes down remorselessly all that stands in its path." - Agatha Christie
4. "I will look after you and I will look after anybody you say needs to be looked after, any way you say. I am here. I brought my whole self to you. I am your mother." - Maya Angelou
5. "Mama was my greatest teacher, a teacher of compassion, love and fearlessness. If love is sweet as a flower, then my mother is that sweet flower of love." - Stevie Wonder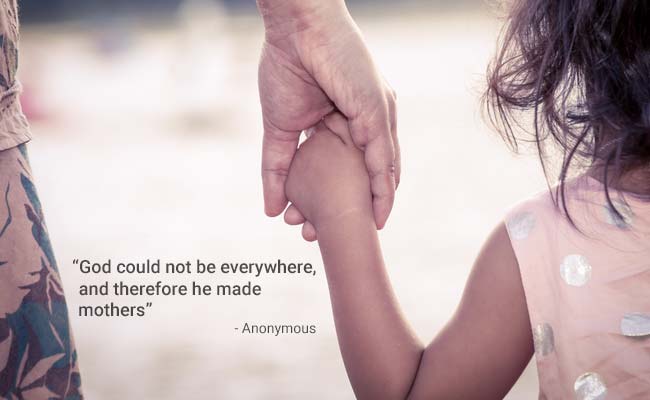 6. "All that I am, or hope to be, I owe to my angel mother." - Abraham Lincoln
7. "Children are the anchors of a mother's life." - Sophocles
8. "Mothers hold their children's hands for a short while, but their hearts forever." - unknown
9. "Biology is the least of what makes someone a mother." - Oprah Winfrey
10. "But behind all your stories is always your mother's story, because hers is where yours begins." - Mitch Albom