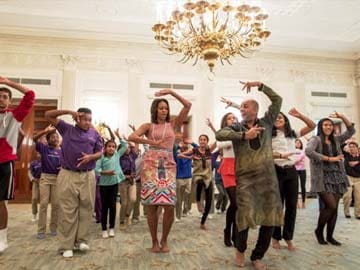 Washington:
Michelle Obama's rhythmic dance moves to peppy Bollywood numbers during a Diwali bash has made it to one of the top White House photos for the year 2013.
Taken by Chuck Kennedy, the 49-year-old First Lady is seen doing Bollywood dance in the State Dining Room along with choreographer Nakul Dev Mahajan and students for a Bollywood Dance Clinic at the White House on November 5.
The visit by Prime Minister Manmohan Singh to the White House in September and that of Pakistani Prime Minister Nawaz Sharif could not make it to the top White House photos for the year 2013.
Released by the White House yesterday, these photographs are not ranked but arranged date-wise.
But the Bollywood dance pictures is among the 10 pictures on its homepage.
"In 2013, the President was sworn in for a second term.
We commemorated the 50th anniversary of the March on Washington. We honoured our heroes, and bounced back from national tragedies and natural disasters.
"We strengthened our relationships with allies around the world, and took action to promote the American dream at home," the White House said.
"Each January, Pete Souza, Chief Official White House Photographer and Director of the White House Photography Office, pulls together his favourite images from the past 12 months - exclusive perspectives of everything from Presidential trips and events to private moments between President Obama and his family and staff," the White House said.