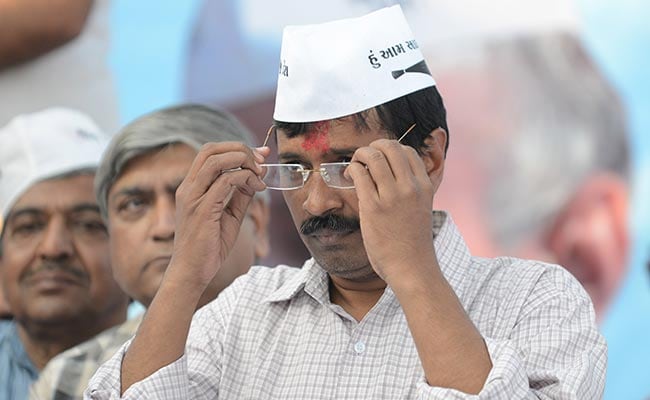 New Delhi:
The BJP is set to retain all three municipal corporations in Delhi as it raced ahead in all of them. Meanwhile, Arvind Kejriwal's AAP, which rules Delhi, is fighting for second place with the Congress. The setback for AAP comes after humiliating defeats in Goa and Punjab assembly elections in March. As leads predict a clean sweep for BJP, after controlling the civic corporations for a decade, here's how Twitter is reacting to AAP's scorecard:
Pic 1 - AAP internal survey
Pic 2 - AAP actual #MCDresults#MCDelectionresults2017#MCDelections2017pic.twitter.com/tG9QWMEDjH

- Pranay Tiwari (@pranayom) April 26, 2017
Haha
BJP's new logo after another probable victory

BJ :P#MCDresults#MCDElectionResults

- Yash Agarwalla (@Yashagarwalla) April 26, 2017
A lot of guesses were made about how Arvind Kejriwal would react
So aap lost #MCDresults now wait for this pic.twitter.com/TJpcwbLvlK

- Pratik Shah (@thepoetpratik) April 26, 2017
AAP has repeatedly voiced concerns about electronic voting machines (EVMs) being tampered with and suggested that the MCD polls should be conducted using paper ballots
Arvind Kejriwal currently to his P.A.: "Woh EVM tampering ka press release dena, practice karna hai" :)#DelhiMCDElections2017@sambitswaraj

- Vinodh Nagarajaiah (@Vinodh_Gowda) April 26, 2017
Delhi MCD Elections are crucial. Only 2 possibilities:
1. AAP will win
2. EVM Tampering

- Aladdin (@Alllahdin) April 20, 2017
But Twitter had a field day trolling AAP
Kejriwal wanted clean Delhi and Delhites took it way too seriously #MCDelectionresults2017

- Dr. Jal Kukdi (@Jal_Kukdi) April 26, 2017
Initial trends suggest EVM aur Voter Miley hue hain Ji#MCDresults

- Mihir Jha (@MihirkJha) April 26, 2017
Click
here for more trending stories.