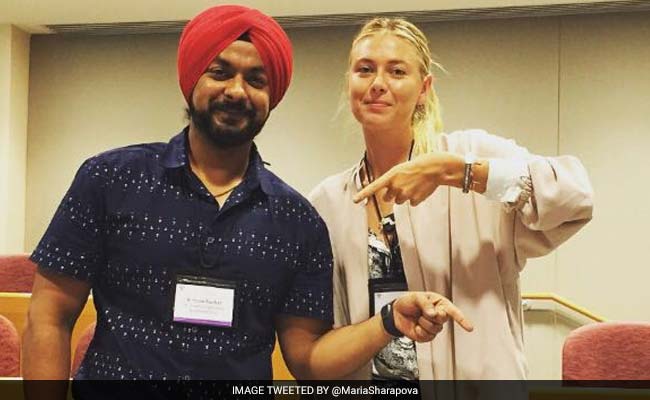 Highlights
Tennis player Maria Sharapova is studying at Harvard University.
She has taken up a two week course in business.
She is serving a 2-year ban from tennis after she failed a drug test.
Russian tennis star Maria Sharapova is spending two weeks of her two year ban in Harvard. Ms Sharapova, who is also a businesswoman and owns a candy line called Sugarpova, tweeted a picture of herself next to the Harvard Business School last weekend and it seems like it's literally been an education.
On Friday morning, the 29-year-old she posted this picture of herself with classmate Simran Sachar of Microsoft.
#BTS from the class room. 'Microsoft and Sugarpova learning something new today at Harvard' pic.twitter.com/sUY55uBRBk

— Maria Sharapova (@MariaSharapova) July 1, 2016
In a previous video posted on her Facebook page on June 30, Maria Sharapova revealed that she had woken up at 5.30 am to work on her presentation.
With a fresh cuppa in her hand, she said, "Another day at school, and another 5.30 am wake up call. Here I am checking out the campus and getting my morning fix."
She also explained how her class of 55 students was organized into groups and how her product Sugarpova was picked as a case study. "So we were signed into smaller groups, and I chose the subject of product and marketing. Our assignment for the last day of the school is that one of us presents our product and the challenges we face as a company. So my group decided that product will be Sugarpova - it wasn't my choice, trust me," she said.
Watch her complete message about the Sugarpova presentation below:
The former world number one is serving a two-year ban from tennis after she tested positive for meldonium in January. Maria Sharapova has been dropped as brand ambassador by Porsche and TAG Heuer and has also been suspended as goodwill ambassador by United Nations. Her ban ends in January 2018.