New Delhi:
A video of a man being hit by a bird while riding Europe's fastest rollercoaster has gone viral. The man sitting in the front row can be seen screaming with thrill as as the ride picks up speed but within seconds he is hit by an object. Excitement soon gives way for disbelief as he realises the object was actually a pigeon.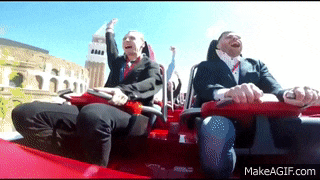 The young man looks at his friend in shock as he brushes off the bird which was still stuck near his throat.
The video shows the man bleeding from his right cheek after a few seconds. It's not clear whether the bird was dead or alive when it hit him.
But the thrill-seeker decides not to let the bloody incident affect him as moment later he throws his hands in the air like nothing ever happened.
Watch the entire episode here


According to
Daily Mirror
, the bizarre accident took place on Thursday as 1,500 people attended the grand opening of the Ferrari Land theme park outside Barcelona. The 40-foot rollercoaster can hit speeds of 180 kilometres/hour in just five seconds.
Click for
more trending stories
.
For the latest News & Live Updates on Election Results from each assembly constituency in Madhya Pradesh, Rajasthan, Mizoram, Chhattisgarh, Telangana, like us on Facebook or follow us on Twitter for updates.