New Delhi:
International Yoga Day is being celebrated across the world on June 21, 2018 this year. The theme for Yoga Day 2018 is "Yoga for Peace." Proposed by Prime Minister Narendra Modi at the United Nations General Assembly 2014, June 21 was officially declared the International Day of Yoga by the UN that year. Since then, each year on June 21, fitness enthusiasts around the world practice various yoga asanas (or postures) and pranayamas (or breathing exercises). This year, PM Modi led
Yoga Day
celebrations in the lawns of Dehradun's Forest Research Institute - where over 60,000 people practiced yoga on June 21.
Over the past few years, however, yoga has been influenced by some rather unusual fitness fads. Sometimes interesting, sometimes bizarre, these unusual yoga trends are definitely worth learning more about.
Here are 5 unusual yoga trends you may not have heard of before this:Goat Yoga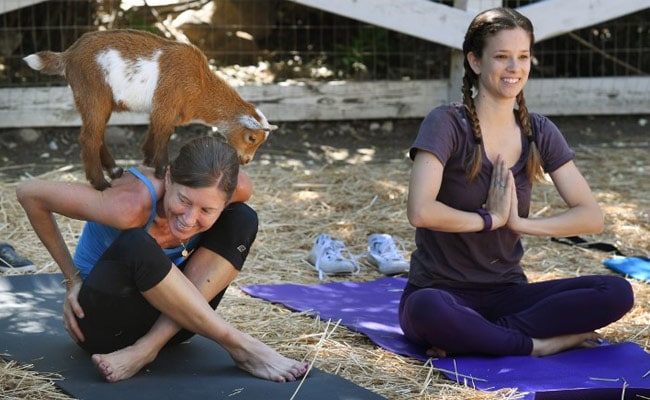 "
Goat Yoga
," which is usually practiced on farms, involves Nigerian Dwarf goats -- miniature goats of West African origin -- roaming about as yogis practice their exercise routines. Strange as it may seem, it's definitely a stress-buster. "You can't really be upset when you're around a bunch of baby goats climbing around and being silly," says one yoga enthusiast who took a class.
Polga or Pole Yoga
What happens when you combine the strength of yoga with the athleticism of a pole dancer? Well, you get Polga or
Pole Yoga
. It's a fitness fad that was demonstrated wonderfully by
Race 3
actor Jacqueline Fernandez last year.
Doga or Dog Yoga
Doga, or Dog yoga, as the name suggests combines stretching and massages for dogs and their humans. Sure, it may be a little hard to get your four-legged friend to focus but some believe doga improves the bond between dogs and their humans. And there's no doubt it will reduce your stress, as well. So, roll out an additional yoga mat for your pampered pooch!
Paddleboard/Surfboard Yoga
Yoga on a paddleboard or surfboard forces practitioners to engage their core muscles to remain steady while on their boards and moving through a series of Yoga asanas.
Tantrum Yoga
This may be our favourite kind of yoga on this list. Tantrum yoga - as its name suggests - encourages its practitioners to scream and shout their way to better health. Students are encouraged to release their stress by throwing a temper tantrum. The aim is they will be laughing and relaxed by the end of the class. (Err, okay!)
Which of these offbeat yoga practices would you like to try? Let us know in the comments section.
Looking for some wellness inspiration? Click here for
five Indian yogis to follow on Instagram
.Click for more
trending news