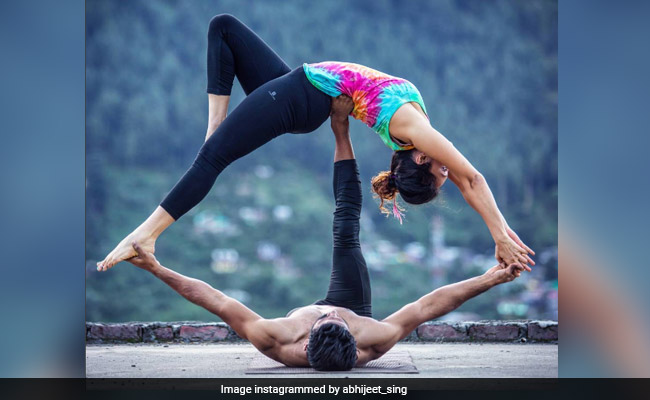 International Yoga Day is being marked today and if you're curious about yoga or already are a practising yogi looking for more fitness inspiration, Instagram might be the place to find it! With eye-popping shows of strength, often in idyllic settings, yoga accounts are among the most addictive on the photo-sharing platform. Many post an
asana
, or yoga pose, a day. They also often provide insight into the age-old practice, encouragement to begin or continue your practice and, well, since it's Instagram, gorgeous pictures.
So, if you're looking for wellness inspiration, here are five Indian yogis to follow on Instagram:
Abhijeet Singh
Abhijeet describes himself as a mountaineer and adventure photographer. He
practices acro yoga
- a combination of acrobatics and yoga. Abhijeet's account proves yoga is more than just stretching and relaxation - it can help you build total-body strength.
Deepika Mehta
After a rock climbing accident, doctors told Deepika that
she would never walk again
. That's when she sought out alternative approaches and found yoga. The Mumbai-based yogi's
Instagram account
is filled with stunning pictures. She often breaks out in a yoga pose during her travels around the world which makes for amusing pictures (and serves as a reminder that there's no excuse to miss your daily practice!)
Samrat Pasham
Samrat once weighed 101 kilograms. He's now a vinyasa yoga teacher.
On his website he writes
, "For years, I was perfectly happy being a desk warrior who worked night shifts and loved the thought of vegging out in front of the TV in my free time...I weighed a 101 kgs, developed severe hypothyroidism and a fatty liver." That's when
someone suggested yoga
and the rest, as they say, is history. Still searching for inspiration?
Natasha Noel
A dancer and yogi, Natasha calls herself an "
Ambassador of Positive Energy
" and looking at her Instagram posts, it's hard not to be inspired. She often posts instructional videos on her YouTube account as well and one of our favourites is
desk yoga
.
Ajay Tokas
Ajay is an
ashtanga yoga teacher
who often posts videos of himself working on a variety of
asanas
.
On his website
, he writes that his "teaching is inspired by the integration of strength in the Ashtanga Yoga with the inner experience of spiritual discipline. (He) believes that with disciplined yoga practice one can open doors to self-realisation."
Three years ago, Prime Minister Narendra Modi persuaded the United Nations to declare June 21 as
International Yoga Day
. Since then, Yoga Day celebrations around the world have only gotten bigger each year. Events are being held in 180 nations across the world today.
How are you marking International Yoga Day today? Let us know in the comments section below.Click for more
trending news