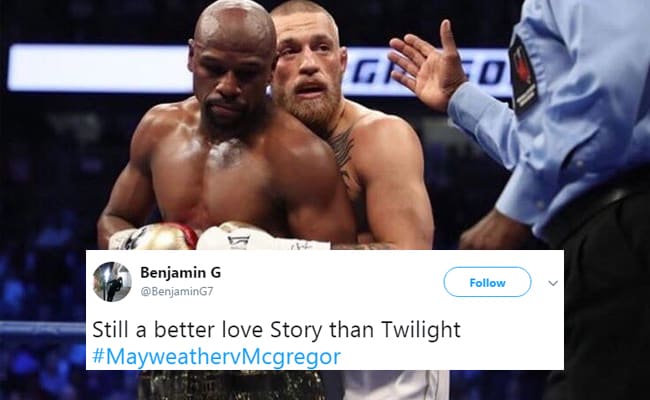 Floyd Mayweather outclassed Conor McGregor with a 10th-round stoppage to win their money-spinning superfight and clinch his 50th straight victory. The undefeated welterweight boxing world champion Mayweather o
vercame a spirited start from McGregor
, dominating from the fourth round onwards. It was an explosive finale that gave rise to many memes on social media as the hashtag 'Mayweather v Mcgregor' began to trend. We compiled some of the funniest McGregor vs Mayweather fight memes for you to see:
Some said it had been predicted
The simpsons predicted this You know.#MayweathervMcgregorpic.twitter.com/W2yKydERCB

- Pepe De La Torre (@pepe_delatorre) August 27, 2017
Simpsons predicted it again #MayweathervMcgregorpic.twitter.com/JFB2T0Bnb7

- 9GAG (@9GAG) August 27, 2017
Others just wondered how much money the two made
They're rich now #MayweathervMcgregorpic.twitter.com/M0OgaUnnIq

- 9GAG (@9GAG) August 27, 2017
When you realise you've made more money in one night than most people make in a lifetime #MayweathervMcgregorpic.twitter.com/29bF5PpkW2

- Dann Williams (@dw_film) August 27, 2017
Both men after the fight: #MayweathervMcgregorpic.twitter.com/1xnqIF1RQg

- Wheel-Snipe-Celly (@BMart_99) August 27, 2017
Connor and Floyd together after the fight #MayweathervMcgregorpic.twitter.com/hbr6rETfHX

- Tyler Lappe (@tyler_lapp3) August 27, 2017
One picture in particular gave rise to many memes
#MayweathervMcgregor never let go... pic.twitter.com/DKZzL6Y4sn

- jonah the kid (@twinracar) August 27, 2017
Still a better love Story than Twilight #MayweathervMcgregorpic.twitter.com/Ik1gYy5wS2

- Benjamin G (@BenjaminG7) August 27, 2017
Someone even managed to sneak in a Game of Thrones joke
The real winner is the Night King cause he has a dragon now #MayweathervMcGregor

- Christian Campbell (@Christian_Soup) August 27, 2017
Loads of jokes were cracked and Twitter had a field day
First day of School vs End of the first semester#MayweathervMcgregorpic.twitter.com/jODjJp3fUg

- 6 (@6UpsideDownIs9) August 27, 2017
Which Conor Mcgregor vs Floyd Mayweather meme was your favourite? Do let us know using the comments section below.
(With AFP Inputs)
Click for more
trending news