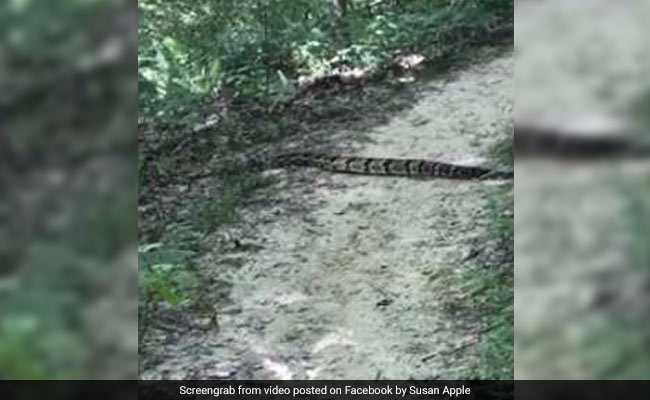 Hiking or trekking trips are a great way for people to get close to nature but one man's rather close encounter with a snake has shaken up many online. A video recorded by Facebook user Clayton Fleener shows the moment he came across a large, scary snake while hiking in Brown County in Indiana, US. The video, posted on the social networking site by Mr Fleener's mother, Susan Apple, has collected over 5,500 shares since July 31 - and very much counting.
According to comments posted by Ms Apple on Facebook, Mr Fleener was slated to leave for a boot camp. So before he left, he decided to hike up to the point where his grandfather's ashes were scattered. It was on his way that he noticed the snake right in his path. And while the snake simply crossed his path, it's scary to imagine what could have happened if Mr Fleener hadn't noticed it.
If you don't do well with snakes, the video is enough to make you uncomfortable.
Ms Apple even mentions on Facebook that her son reported the incident to concerned authorities.
"Clayton reported it to the park ranger and showed him the video. He said they are actually tagging and tracking them and people never see them because they don't like people. This one obviously was a rebel and had just eaten... looks like a deer in his belly!" she posted as a comment.
People who have watched the video seem quite shaken up with the video.
"I'm going to pretend I didn't see that," a Facebook user commented. "That is indeed a big snake...yikes....wouldn't want that in a sleeping bag," commented another.
"Look at that rattlesnake! I would have died right then and there," said one commenter on the video. "I would cry and then get in my car and head towards home," said another.Click for more
trending news