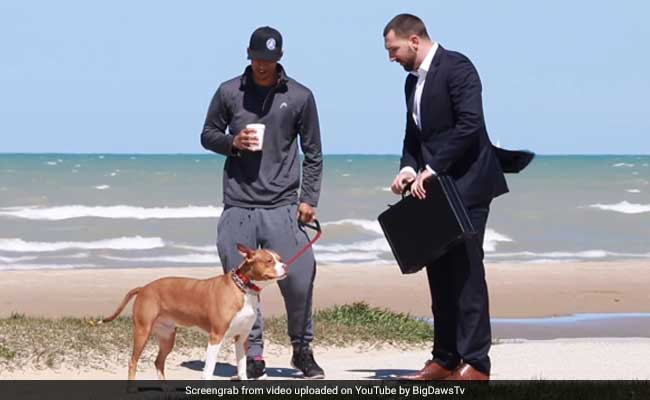 Imagine you're walking your dog down the street and suddenly, a man with a briefcase in his hands offers you money in exchange for your dog. What would you do? While you ponder what your answer will be, take a look at what these people did in this situation. A video on YouTube shows a social experiment of sorts in which people had to choose between their beloved dog or a briefcase full of cash - $100,000 to be exact (approximately Rs 64,00,000). Can you guess how many agreed?
Shared on the BigDawsTv YouTube channel on May 17, the video has collected over four million views so far. We're not giving anything away, so you'll just have to watch the video to find out what happens. We will tell you this, though - if you love dogs, you won't be disappointed.
Wasn't that just the sweetest? People on YouTube sure think so.
"To the man whose dog made him spill coffee on himself and still wouldn't sell him for 100k... he deserves the 100k just for his sweet heart," says one YouTube user. "It's so funny how people wouldn't trade their dogs for a $100,000 but they will trade their husbands and wives for that much money," says another.
Others put themselves in this situation.
"I'll sell my soul before I sell my dog," says one commenter. "I would NEVER EVER sell my dog," says another.
Many felt bad for that one dog whose human almost sold him.
"Poor Bernie, such a beautiful baby," says one YouTube user. Another says, "Bernie deserves a better owner that cares for him. Not for money."Click for more
trending news