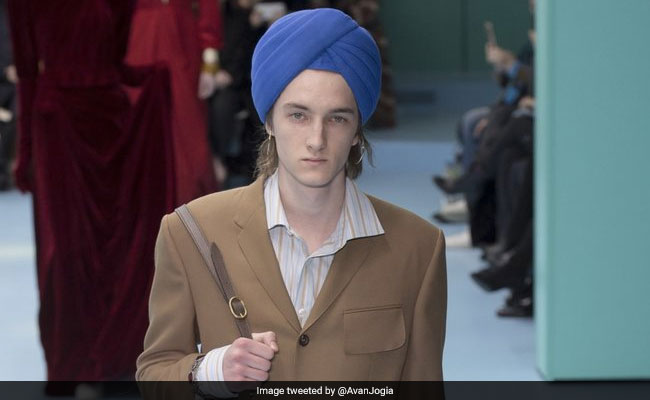 During the ongoing Milan Fashion Week, luxury brand Gucci sent models down the runway in a variety of headwear - from elaborate headdresses to hijabs and turbans. It was their use of turbans that was most heavily criticised as cultural appropriation on Twitter. Many on social media pointed out that turbans are an important part of the Sikh religion and should not have been used as fashion accessories during Wednesday's fashion show. Others also criticised Gucci for making European models wear turbans instead of looking for a Sikh model.
According to
Al Jazeera
, many of the world's 27 million Sikhs - both men and women - wear the turban.
The issue was first brought to light by actor and model Avan Jogia
Yo.. @gucci ... I mess with you guys... but this isn't a good look for you... could you not find a brown model? pic.twitter.com/INqxwrfB0t

- Avan Jogia (@AvanJogia) February 22, 2018
"The Sikh turban is a sacred article of faith, @gucci, not a mere fashion accessory. #appropriation We are available for further education and consultation if you are looking for observant Sikh models," wrote the
Sikh Coalition
on Twitter.
Many others termed the use of turbans as fashion accessories 'offensive' and 'unacceptable'
This is unacceptable and offensive @gucci. Wearing another religions article of faith is not fashion, its appropriation! Sikh men are profiled and discriminated against every day for wearing a turban, yet when you put in on a white person, it's suddenly fashionable and cool?!?! pic.twitter.com/UD0wWjaju5

- Gurpy Colors o(:) (@gurpycolors) February 22, 2018
And while Gucci sends white models down the catwalk wearing turbans, a Sikh environmentalist has his turban ripped off outside parliament in a hate attack. As someone whose family has been on the receiving end of this sh** for decades, this is utterly depressing. pic.twitter.com/35stzYF7BO

- Tina Daheley (@TinaDaheley) February 22, 2018
Thanks @gucci for entirely appropriating my religion. Ffs, I'm pretty sure you could have found a Sikh model to wear a turban rather than turning it in some causal accessory #notokaypic.twitter.com/23HvT8vkwQ

- Maninder Sachdeva (@thisismani_) February 22, 2018
"The Sikh Turban is not a hot new accessory for white models but an article of faith for practising Sikhs," wrote restauranteur Harjinder Singh Kukreja in a tweet that has been retweeted over 2,300 times.
Dear @gucci, the Sikh Turban is not a hot new accessory for white models but an article of faith for practising Sikhs. Your models have used Turbans as 'hats' whereas practising Sikhs tie them neatly fold-by-fold. Using fake Sikhs/Turbans is worse than selling fake Gucci products pic.twitter.com/gCzKPd9LGd

- Harjinder Singh Kukreja (@SinghLions) February 22, 2018
There are now thousands of tweets slamming Gucci for appropriating a cultural symbol for profit. They are yet to comment on the issue.
Only a few weeks ago, fashion retailer Zara came under fire for
selling a skirt
that resembled the traditional Indian lungi.
Click for more
trending news