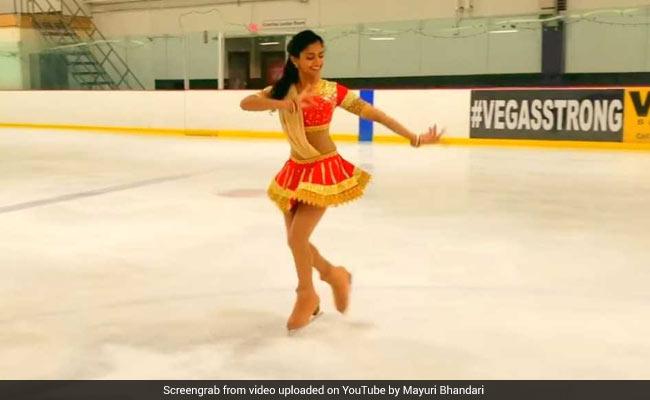 Sanjay Leela Bhansali's
Padmaavat
, after it finally hit the theatres on January 25, has had an 'unstoppable' run at the box office. It would be safe to assume, though we are just one month into the year, that Deepika Padukone's
Ghoomar
from the movie has already become one of the biggest hits of 2018. The song - which has seen its fair share of controversies - has now become the sound track to many beautiful performances. From
Aparna Yadav's dance
to
NBA performances
on
Ghoomar
- the song is definitely everywhere. The latest addition to that list is figure skating champion Mayuri Bhandari's stunning performance on
Ghoomar
.
Titled 'Ghoomar Dance on Ice', Mayuri's video on YouTube shows her twirling to the track on an ice rink. Wearing ice skates and a red costume, Mayuri is seen dancing effortlessly to
Ghoomar
in the video.
"In honor of the film Padmaavat's release, here is my ice skating tribute to the beautiful song Ghoomar! As a Rajasthani, I skate to this song with pride!" she captions her video.
Watch this one-of-a-kind performance below:
Since being shared online on January 26, her performance has already been viewed over 17,000 times on YouTube.
"Terrific performance. Elegant and graceful," writes one commenter. "Really talented," says another.
Padmaavat
's makers had released a new version of
Ghoomar
before the film's release which received over 100 million views on YouTube.
What do you think of the performance? Let us know using the comments section below.
Click for more
trending news