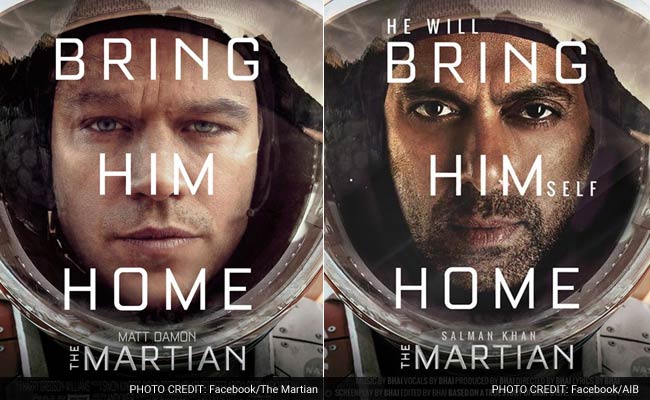 In this month's Hollywood blockbuster
The Martian
, Matt Damon is an astronaut stranded on Mars who makes it home to Earth with the help of NASA. And because that is just not the way Bollywood does it, the desi version would star Salman Khan and he would require nobody's help but his own to bring himself. After all, he got little Munni safely from India to Pakistan - Mars to Earth ought to be a breeze for Bhaijaan.
Through a photoshopped poster, comedy collective AIB has imagined a version of the sci-fi film which will probably make a lot more sense to the Indian masses, especially since it features
sabki aan, sabki shaan, sab ka ek bhaijaan
, Salman Khan, as never seen before.
Matt Damon needs lessons from his
Bajrangi
counterpart pronto. "NASA
gaya bhaad mein
" - 500 crore film formula, only.
What's funnier than this re-worked poster though is the barrage of hilarious comments on the post. You'd think giving AIB competition on their home turf was tough, right? Well, think again then.