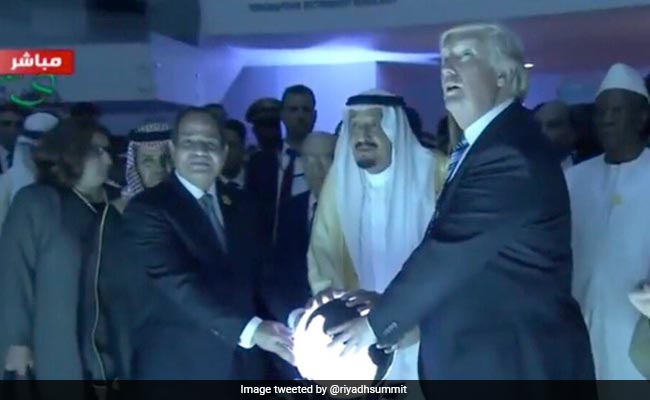 New Delhi:
During his first presidential trip abroad, US President Donald Trump inaugurated Saudi Arabia's new Global Centre for Combating Extremist Ideology on Sunday. One particular moment from that event, however, stands out. It's a moment when Mr Trump, along with Saudi Arabia's King Salman and Egypt's President Abdel Fattah el-Sisi, have their hands placed on a glowing orb while standing in a vast, dark hall. According to local media, the the leaders placed their hands on the illuminated globe and "officially activated the centre and launched a splashy welcome video."
@KingSalman and @POTUS inaugurate The Global Center for Combatting Extremist Ideology in Riyadh. #RiyadhSummitpic.twitter.com/do6cFL7wBW

— Saudi Embassy (@SaudiEmbassyUSA) May 21, 2017
However, the striking moment instantly became a meme and flooded social media early this morning.
There were plenty of
The Lord of the Rings
references:
"find...the...hobbit..." pic.twitter.com/8saqDbl5Nh

— darth (@darth) May 21, 2017
not all the palantiri were accounted for when Numenor was corrupted by Sauron and lost so it's always nice to see one come back into play pic.twitter.com/hBY2DDSmSs

— ANTHONY OLIVEIRA (@meakoopa) May 21, 2017
As well as some
Harry Potter
ones:
seriously though... this "Harry Potter and the Order of the Phoenix" reboot is terrible pic.twitter.com/YspKvCm4g4

— Jenna Amatulli (@ohheyjenna) May 22, 2017
Some
Star Trek
references:
I'm thinking this Trump orb thing is a comic con exercise for Star Trek Return to Tomorrow episode. pic.twitter.com/8jZcbXKXCX

— Gregory Pijanowski (@G_Pijanowski) May 22, 2017
And some
Star Wars
ones as well:
@cd_hooks it's totally the Orb of Peace from the end of The Phantom Menace pic.twitter.com/KuBEIfKWdY

— Will T (@historicus91) May 21, 2017
The comic book references just wouldn't stop:
Attention, Marvel heroes, we found the last Infinity Stone! pic.twitter.com/icce0aprGt

— jimgeraghty (@jimgeraghty) May 21, 2017
tfw you and your friends unearth an ancient alien hell orb and combine your powers inside it to stop superman >>>>> pic.twitter.com/kzsYEKC4R0

— jon hendren (@fart) May 21, 2017
just some billionaires gathering in the dark and holding a glowing orb. probably fine

— jon hendren (@fart) May 21, 2017
Everyone freaking out, it's a GLOBE
You can see the continents
Just a conclave of powerful men laying hands on a fiery globe
This is normal pic.twitter.com/FEo4auHVfm

— James Poniewozik (@poniewozik) May 21, 2017
There was this hilarious comparison to stock shots:
Damnit guys, @fart tried to warn us pic.twitter.com/7OsHYjH1CJ

— Rob Sheridan (@rob_sheridan) May 21, 2017
And a much-needed reminder to focus on the bigger picture:
It was unfair to show the orb photo cropped. Here it is with full context and it is not weirder at all. pic.twitter.com/JZ9HXvC0Gf

— Comic Sans Defender (@TibiusReynolds) May 21, 2017
Click for more
trending news