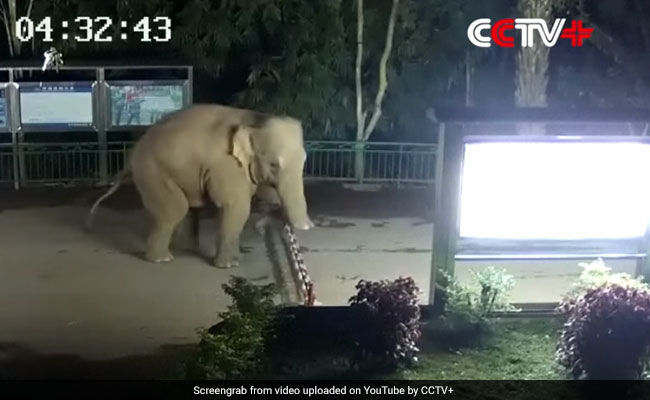 In man vs wild, it was definitely the wild that emerged as the winner in this round. A wild elephant, out on an early morning walk, proved that man-made borders are but tiny obstacles when it calmly crossed the China-Laos border on Saturday. CCTV cameras have captured the moment the elephant left the Yunnan province of China about two hours before dawn to wander into the neighbouring country of Laos.
ABC News
reports that though it moved out of Xishuangbanna Dai Autonomous Prefecture of Yunnan Province, it came back home only two hours later.
Footage captured shows the elephant comfortably crossing the border railing to get into Laos.
According to CCTV+, the incident took place on Saturday as the elephant strolled to Luang Namtha in Laos.
Watch the video below:
According to
ABC News
, soldiers on duty immediately dispatched two teams to look for the elephant and asked nearby residents to keep a watchful eye.
"It's winter now and there's not a lot of food in the forest areas. We often see wild elephants hunting for food in nearby villages," said Li Zhifu, a soldier with Chahe border-crossing checkpoint.
"The elephant has now returned to the forest safe and sound."
People on social media, meanwhile, can't stop marveling at the well-travelled elephant:
Watching an elephant cross the border from China into Laos at 4:30 in the morning was the soulful content that I did not know I needed

- Julio (@VForVillegas) January 28, 2018
Wild Asian elephant strolls across China-Laos border -
i wonder what the elephats real nationality is ?
what language and passport was he carrying, lol
https://t.co/cepLgvCwds via @ABCNews

- Douglas (@Ddouglas1973) January 29, 2018
Watch how a wild elephant decided to cross the border from China to Laos... twice.

- pointerlu (@pointerlu) January 28, 2018
Click for more
trending news