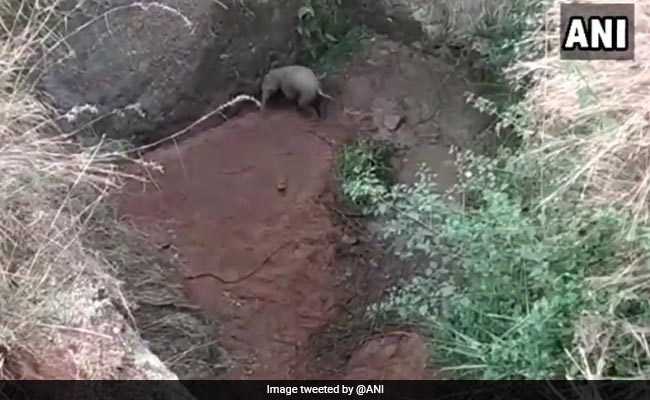 A baby elephant was given a new lease on life after it was rescued from a 20 feet ditch it had fallen into. A video shared on Twitter shows the three-month old calf anxiously pacing about in the ditch before being rescued out of it.
The incident took place in the Paavadaipatti village in Hosur, Tamil Nadu on January 16. The elephant had most likely been separated from its herd and fell into the ditch. Officials from the Forest Department were called in to help rescue the calf. Several villagers assisted the forest officials to lift the calf out of the ditch safely.
Video of the restless calf was shared on Twitter by news agency ANI on January 16.
#WATCH Elephant calf fell into 20-feet deep pothole in Hosur's Paavadaipatti; it was later rescued by Forest Department #TamilNadupic.twitter.com/mw9bpZIYJz

- ANI (@ANI) January 16, 2018
According to
News.com.au
, locals heard the elephant's cries in the morning and gathered around the ditch. They informed the Forest Department about the situation as well. First, they tried to use ropes to pull the elephant out of the ditch but their efforts were in vain.
It was eventually a net made of nylon that was ultimately used to rescue the elephant, District Forest Officer Deepak told NDTV.
The rescue operation lasted about an hour. The officials threw the net into the ditch and after prodding the elephant to lay down in it, pulled it out successfully, reports
The Hindu
.
"At least 25 staff and another 50 volunteers helped in the rescue operation," Mr Deepak told
News.com.au
. "We were told about the incident early morning and the team soon reached [the] spot and monitored the situation before they finally succeeded in taking out the calf," he added.
That wasn't the end of the rescue operation, though. The calf was later ushered into the Udedurgam Reserve Forest where it eventually made its way back to its herd.Click for more
trending news