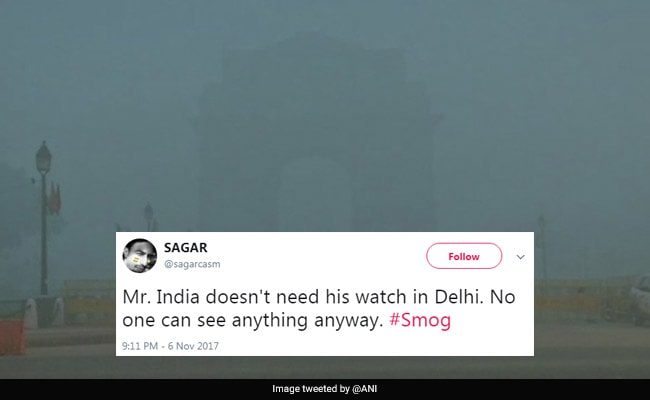 As the national capital region woke up to a thick blanket of smog today morning, tweets about pollution in Delhi-NCR started pouring in thick and fast. Many took to Twitter to complain about the poor visibility and the deteriorating air quality in Delhi. Others addressed their tweets to the central and state government and asked them to look for a solution to the smog problem which, in 2016, had forced schools to remain closed for three days as the National Green Tribunal declared an environmental emergency in Delhi.
#Delhi: Visuals of smog from India Gate and Rajpath pic.twitter.com/vsnPbWdlHr

- ANI (@ANI) November 7, 2017
Here is how Delhi residents are reacting to the spike in pollution levels.
Delhi is choking, said many
Dear @ArvindKejriwal Delhi is choking and government continues to be in denial. This is an emergency situation, WAKE UP! #MyRightToBreathe

- Brikesh (@Brikesh) November 7, 2017
Delhi is choking with pollution.
Forget bullet train,Digital India,Make in India etc.
There is existential crisis in Delhi.
Do something

- Rohit (@guptarohit93) November 7, 2017
Many shared pics
Good morning Delhi! View from my window at Leela, Delhi fog or smog?? pic.twitter.com/mrZVBCFL24

- Vivek Anand Oberoi (@vivek_oberoi) November 7, 2017
Behind that death Grey wall of #smog today, is the invisible city of #gurgaon. Taken at 8ish at Delhi Gurgaon border. Do authorities care? pic.twitter.com/VI7w62ENqP

- Priyanka Sachar (@twilightfairy) November 7, 2017
And others resorted to humour
I tried making small-talk at work about the fog problem in Delhi. Then this one smartypants corrected me and said it's actually 'smog' and not 'fog'. I wanted to sock him in the face but I didn't, because he's my coworker and also because I couldn't even see where he was.

- Akshar (@AksharPathak) November 7, 2017
Mr. India doesn't need his watch in Delhi. No one can see anything anyway. #Smog

- SAGAR (@sagarcasm) November 7, 2017
Air quality in Delhi, this morning. pic.twitter.com/OifNnYxkE1

- Trendulkar (@Trendulkar) November 7, 2017
#Smog in South Delhi is causing irritation in throat. It's more like Hauz

- Lame Monk (@oldschoolmonk) November 7, 2017
Other states - aur kya chal rha h??



Delhi - #smog chal rha h !!!! pic.twitter.com/0qNrDJ3D3y- (@i_upasana) November 7, 2017
DELHI BE LIKE: #smog filter for today
Because Instagram filters are too mainstream! pic.twitter.com/ujUmLacMkK

- Barney Stinson (@BarneyStinsonYo) November 7, 2017
In a bid to reduce pollution in the city, the Supreme Court had banned the sale of firecrackers before Diwali this year. Even so, the days after Diwali saw the air quality dip to 'very poor' levels in parts of the capital.
Click for more
trending news