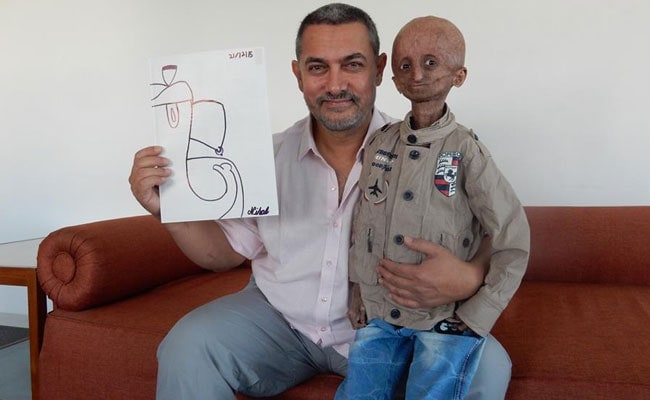 Mumbai:
Aamir Khan made a "dream come true" for Nihal Bitla, who is suffering from rare genetic disorder progeria, by meeting him. The youngster, who received goodies galore from the Bollywood actor-producer, says the
Taare Zameen Par
star made him feel "optimistic" about life.
Aamir met Bitla following a
Facebook post
, where it was mentioned that the latter wanted to meet the "PK" star and thank him for the 2007 film
Taare Zameen Par
, which gave him courage. Thereafter, Aamir shared that he was keen to meet his 14-year-old special fan, and he ensured they met.
Post their meet, a Facebook page in the name of Team Nihal Bitla posted with multiple images of Nihal and Aamir: "Thank you Aamir uncle for making my dream come true. Your
Taare Zameen Par
always inspired me to face adverse situations and I was always knew that one day I will meet you."
Bitla even gifted Aamir a drawing of lord Ganesha, which the actor is said to have appreciated. They even posed together holding each other close, with the drawing in Aamir's hand.
"Hope you will always keep it with you," the post read further.
Aamir was also thanked for the "goodies" that he brought for Bitla as well as shared an autograph for his young fan.
"I am feeling very optimistic and positive about life. I am sure you will help spread the word for the Progeria Research Foundation to identify 60 more kids like me in India so that they can get the right treatment. Thanks again for making the time available for me and my family so quickly," the post read.
Progeria is an extremely rare genetic disorder wherein symptoms resembling aspects of ageing are manifested at a very early age. It was megastar Amitabh Bachchan's portrayal as Auro in "Paa", which brought forth the disease into mainstream knowledge.
However, for Bitla it led to "harrowing experiences".
"When I was in the fourth standard and the movie 'Paa' released, my classmates began teasing me and calling me Auro -- I felt terrible at that point, so I came home and told my parents. My dad told me to tell them 'to chill' and that 'I'm special' -- so I did. I don't blame those who don't understand me, they like me are children after all," an earlier post by Bitla's team read.