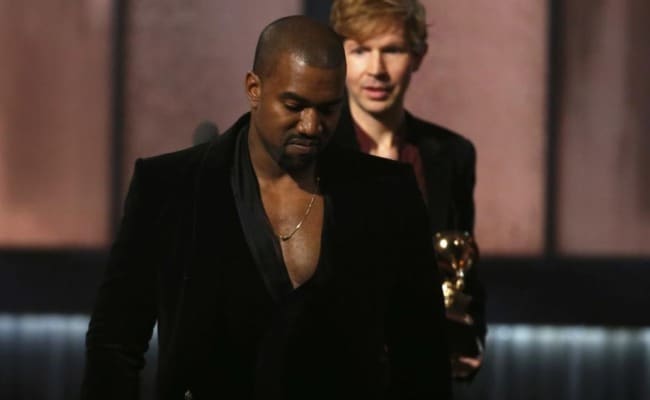 Kanye West's critics have found a new way to troll him: Type "loser.com" into your browser right now, and it will redirect you to Kanye West's Wikipedia page. Yes, really.
The person or group behind the stunt is yet to be identified, but a Twitter user named Amy Bustle Connelly (@AmyBustle), a self-admitted Beck fan, has been taking credit for the prank.
OK. So the Grammys..and Beck's song Loser...and I own http://t.co/fm4cPVncJQ The redirect was a simple choice #loser.com

- Amy Bustle Connelly (@AmyBustle) March 2, 2015
Kanye may have apologised to Beck after saying that the Morning Phase rocker should 'respect artistry' and give his Album of the Year Grammy to Beyonce, but Beck's fans are clearly still mad at him and seeking revenge.
We know Kanye is infamous for his rants during award shows and, well, his bad behaviour.
So here's a list of times Mr Yeezus gave his haters fodder:
"If I don't win, the awards show loses credibility"
At the MTV Europe Music Awards in 2006, Kanye was so disappointed at not winning the prize for Best Video that he crashed the stage when the award was being presented to Justice and Simian for We Are Your Friends.
In a tirade riddled with expletives, Kanye said he should have won the prize for his video Touch The Sky, because it "cost a million dollars, Pamela Anderson was in it. I was jumping across canyons. "
"Will never return.."
Kanye had another meltdown at the MTV Video Music Awards the next year. This time because his performance of "Stronger" took place in the Palms' Hugh Hefner Sky Villa and not on the main stage.
After watching Justin Timberlake, Timbaland and Nelly Furtado performing, Kanye got really upset.
"Justin's my boy, but even he gets to perform in both a suite and on the main stage? Something's wrong here," he was quoted as saying. He promised to "never return to MTV."
Funnily enough though, he was back the next year, performing Love Lockdown....this time, on the main stage.
"Yo Taylor, Beyonce deserved this"
Six years ago at the MTV Video Music Awards, Kanye West grabbed Best Female Video winner Taylor Swift's microphone to insist that the award should have gone to Beyonce.
Kanye said into the mic, "Yo Taylor, I'm really happy for you, I'll let you finish, but Beyoncé has one of the best videos of all time. One of the best videos of all time!"
And off he went, having reduced Taylor to tears onstage and leaving Beyonce astonished and horrified in her seat.
"Gimme that ******* tape"
In 2008, Kanye West, his road manager and bodyguard were arrested after he got into a fight with a paparazzo, threw his camera to the ground and smashed it for taking pictures without his permission.
Another paparazzo at the scene reportedly videotaped the incident, and when police asked him for it, Kanye allegedly lunged for the tape. He was arrested on charges of felony vandalism.
"I was definitely robbed" Way back in 2004, Kanye lost the American Music Award for Best New Artist to country star Gretchen Wilson. He stormed out of the auditorium that was hosting the award show. "I was definitely robbed," he later told the Associated Press. "I was the best new artist this year."
"It's not called glow in the dark for no reason..."
At the Tennessee Bonnaroo festival in 2008, while his fans waited for him to perform, Kanye didn't appear on stage till 4:45 in the morning- two hours after his already rescheduled time - and delivered a what many called 'below average' performance.
But Yeezus was not apologetic. Instead, he went on to blame the concert's organisers for failing to grasp the awesomeness of his performance.
In his blog, West said that the festival organisers gave him a sun-drenched time slot that ran counter to the rapper's night time-themed Glow in the Dark tour: "They tried 2 give me a time slot where it was still light outside. It's not called glow in the dark for no reason squid brains!"
We are not sure if Kim Kardashian's other half knows about the prank yet, but when he does, just remember --"Hell hath no fury like Kanye West scorned".