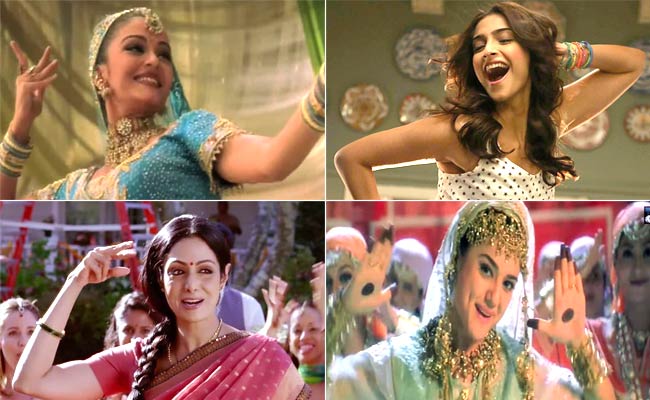 Over the years, Bollywood has treated folk songs like the elder brother it could always count on when in need of inspiration or help. The former may have a wider audience, but the latter has a soul unmatched by anything but the original. From Dilip Kumar's
Nain Lad Jaihe
(
Ganga Jamuna
) to the more recent
Engine ki Seeti
from Sonam Kapoor's
Khoobsurat
, the folk-song love affair neither a short lived one nor one that will go away anytime soon. What with the likes of Vishal Bhardwaj (
Beedi Jalai Le - Omkara, Do Jahaan - Haider
) and Amit Trivedi (
Shubharambh - Kai Po Che, Monta Re - Lootere
) bringing us music inspired by folk music, we're not going to go short on such numbers anytime soon.
Here are some of our favourite Bollywood songs from recent times which have been inspired by folk music. Songs listed in the order we rate them, because we love count-downs and because we can.
10. Engine ki Seeti - Khoobsurat
Some people like this song hence the inclusion. Wish they'd stuck to the original though.
9. Khamma Ghani - Happy Ending
Sung by pop singer turned playback singer Papon, this song is catchy enough to merit its presence in this list.
8. Jugni - Cocktail
The original Pakistani Punjabi folk song is guaranteed to give you goose bumps. This one's quite lovely too though.
7. Morni Bagama Bole - Lamhe
Yes, this isn't recent but the song has Sridevi. Dancing. On. Sand. Dunes. What more do you want?
6. Nimbooda - Hum Dil De Chuke Sanam
When life gives you lemons - dance with it.
5. Bhumbro - Mission Kashmir
This song gave many school children something to dance to.
4. Kesariya Balam - Dor
It's beautiful and soulful and stays with you long after you've heard it.
3. Ambarsariya - Fukrey
The song that made Sona Mahapatra a star. Also this gave many Juliets a song to listen to on loop.
2. Navrai Majhi - English Vinglish
What's not to love here? Sridevi's dancing again. All's well with the world.
1. Genda Phool - Dilli 6
Any song that features a pigeon strutting its stuff better than the lead actors deserves to top this list.