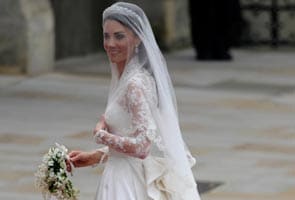 London:
The dress worn by the former Kate Middleton when she married Prince William on April 29 this year, has fueled a surge in regal tourism with 600,000 flocking to see the gown on display at the Buckingham Palace.
Fans stood in queue for hours to see the Alexander McQueen ivory and white satin-gazar dress, designed by Sarah Burton, swelling palace visitor numbers by 50 per cent.
The figure dwarfs the previous record set in 1994, the year the iconic London landmark was first opened to the public to help pay for damages sustained in the Windsor Castle fire.
Visitors to the palace, which closed its doors to the public on Monday after a 73-day open season, stumped up 18 pounds to see the dress, although many plumped for the 32 pounds ticket which also covered the Royal mews and the Queen's gallery.
Money raised by the annual opening of the grand gates goes towards maintaining the Royal Collection buildings and works of art.
"We've enjoyed welcoming visitors from all over the world to Buckingham Palace in record numbers this summer," a spokeswoman for the Royal Collection said yesterday.
"It has been an incredibly busy few months and we're delighted that it's been such a huge success."
Around one million people lined the streets of London to see the couple, now titled the Duke and Duchess of Cambridge, marry on April 29, but few will have had the opportunity to study the gown's intricacy at close quarters.
The lace applique on the bodice and skirt was made by cutting out individual lace flowers and sewing them in a unique design onto ivory silk-tulle, using tiny stitches every two or three millimetres.
In an interview after the wedding, Burton explained that Catherine had asked for a dress which acknowledged the past, yet looked to the future.