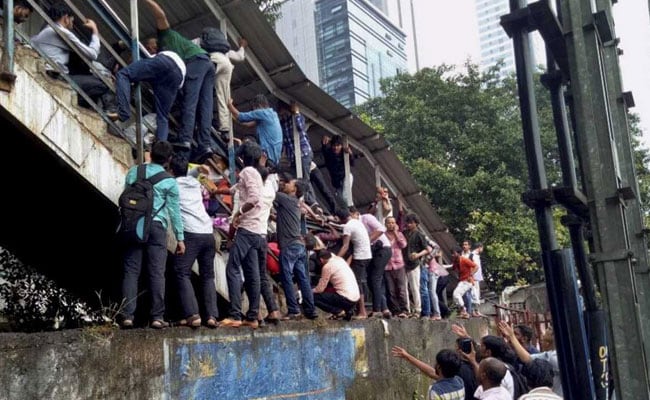 Mumbai:
Rain and rumours have been blamed for the
stampede at a Mumbai railway bridge
that killed 23 people last month. But railway officials who took 18 months to call for bids to build the new foot over-bridge at Elphinstone station may not be off the hook yet.
The railways ministry on Wednesday asked Pratyush Sinha, a former head of the probity watchdog Central Vigilance Commission, to lead the inquiry into the delay to call for bids to build the new bridge.
"Railway Board has decided to constitute a high-level expert committee to inquire into the reasons for delay in the whole process and suggest ways and means to ensure that such delays can be minimised in future," said Anil Saxena, the railways ministry spokesperson.
The stampede broke out during rush hour when thousands took a narrow railway bridge connecting two of the busiest stations in Mumbai - the Elphinstone Road and Parel stations.
Four trains had rolled in
at the same time and a large crowd poured into the bridge that was already bursting with people taking shelter from the sudden downpour. A few commuters slipped, and people fell on them.
Former railways minister Suresh Prabhu who was accused by Shiv Sena lawmakers for ignoring their requests for a new bridge had lashed out at railway officials soon after. According to a news agency Press Trust of India report last month, Mr Prabhu had contended that the "lethargic attitude of the railway administration" had held up implementation of the plan.
After news of the Shiv Sena barbs had come in, railway officials had promptly given the files a quick, hard push.
But Railways Minister Piyush Goyal, who had flown to Mumbai with top railway officials, was determined to get to the bottom of the delay.
"It pained me in Mumbai when I saw the file where a foot overbridge which was approved but it took months to finalise the design and prepare the documentation to tender it," Mr Goyal said at an event in Delhi, according to PTI.
The minister, who had stressed on cutting red-tape during his Mumbai visit earlier, has called the delay "a wake-up call for all my colleagues in the railways".