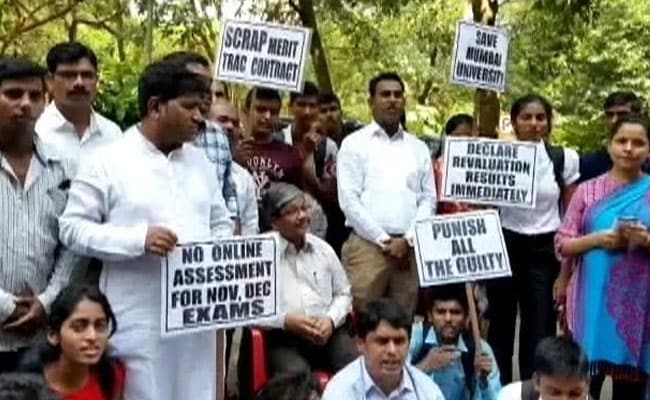 Mumbai:
Vatsal Shah, 21, who bagged a job with a top tech firm three months ago, may lose his chance, not because he lacks talent but because Mumbai University is yet to release his re-evaluated marksheet. Like Mr Shah, more than 29,000 students of the university, Mumbai's oldest, are still struggling with re-evaluation related delays.
"TCS has put my deployment on projects on hold right now because the re-evaluation marks have not come out yet. Unless and until they come out with my re-evaluation results, I won't be able to proceed with my career," said Mr Shah, who got 18 out of 75 in Internet Technology paper and applied for re-evaluation.
Results of over five lakh students that should have been declared by June started trickling in by September.
Law student Preeti Singh, who is eight-month pregnant, was protesting outside the crowded exam office of Mumbai University. She applied for re-evaluation after she failed in one of the exams.
An online re-evaluation two weeks later further reduced her marks to 30 out of 100. "If it's my mistake then I want to see my answer sheets. And if it's the university's mistake then I will not let them fail me in this manner," she said.
It all began in April this year when the varsity's former Vice Chancellor Sanjay Deshmukh decided to introduce the On-Screen Marking system. That meant separating and scanning answer sheets for 400 courses for online evaluation by 15,000 university teachers.
NDTV has accessed the minutes of a meeting held in April that suggest that despite opposition from two senior Education Department officials, Mr Deshmukh wanted to implement the online evaluation system. The two dissenting officials warned against the hurry and suggested that there was insufficient time to include all 400 courses, and suggested that online evaluation be carried out in a phased manner.
The contract finally went to MeritTrac, a Bangalore based firm that claims to have done similar work for universities and government agencies in Karnataka, Odisha and Rajasthan. The company belongs to Manipal Group, headed by former Infosys man Mohandas Pai.
"The contract was awarded through an open tendering process. Multiple vendors participated in this process and MeritTrac was selected as the successful bidder," MeritTrac said in a statement sent to NDTV. The company said it has served "large boards and universities successfully in providing OSM (on-screen marking)".
However, the company said it was not tasked to separate the sheets which could have caused chaos and confusion.
Students and former teachers have demand a probe. Bhalchandra Mungekar, former Vice Chancellor of the university, alleged discrepancies in the tender. "MeritTrac was the company that was chosen unilaterally, singularly, I think by the VC (Vice Chancellor)," Mr Mungekar said.
The university has rejected allegations that the tender process was not transparent. A senior university official said the question of a new contract with another vendor does not arise because the current contract has not expired yet. "The contract is not renewed as it's already in existence," said Dhiren Patel, Deputy Vice Chancellor of Mumbai University.