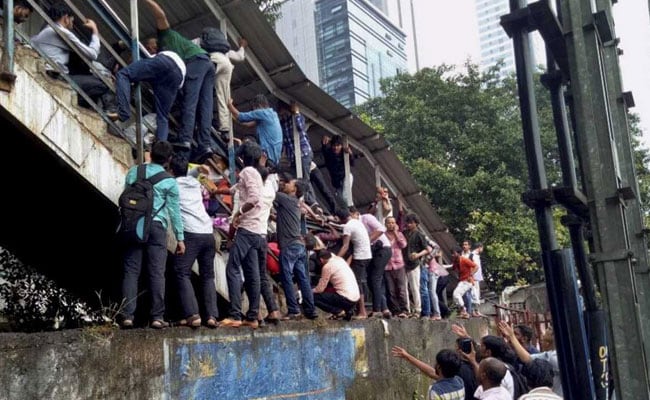 Highlights
11-year-old Rohit was the youngest victim of Mumbai stampede
"My son is dead. I have no words to express my grief": father
Elphinstone Road station stampede killed 23 and injured more than 30
Mumbai:
Akash Parab has no knowledge of his 11-year-old brother Rohit's demise. Rohit is the youngest victim of the Elphinstone Road station stampede that killed 23 and injured more than 30. As Akash, 19, lay in ward number 20A of Mumbai's KEM hospital, his wounds, after being trampled over in the stampede yesterday, are raw and visible. His family doesn't have the courage the break the news to him.
The flower market near the station is a huge draw during festivals. Akash and his brother were returning from Dadar with bags of flowers for Dussehra. The family were to string them into garlands to be sold on Dussehra. However, the festival turned into a day of mourning for the family.
Rohit was number 11, the 23
victims were marked,
in a collage of photographs put on display at the KEM hospital. His aggrieved father said, "My son is dead. I have no words to express my grief."
His uncle Shashikant Parab said that people just walked over Rohit. "His face was completely crushed in the stampede," he said.
A resident of Bombay Development Department (BDD) chawl, 20-year-old Mayuresh Haldankar was the sole earner of his family. He was on his way to work when stampede claimed his life. His 59-year-old father Prakash Haldankar tells us when he went to the
mortuary
, he identified him with his green chappal (slippers). He breaks down as he describes the moment he saw his dead son's face.
Mayuresh was looking forward to Diwali, he adds. He planned to buy gifts with the Rs 50,000 bonus he got. "There would be no Diwali without him," he said.
23 people were crushed to death in the stampede, but at the KEM hospital, 52-year-old Pramod Bagwe and his wife are among the 38 survivors who lived to tell the tale of horror. He is in trauma after his miraculous rescue and under the care of a psychologist.
When asked if they will take the train again from the Parel station, Mr Bagwe said, "I am scared. I will revisit the horror when I return to the station. I will start to shiver."