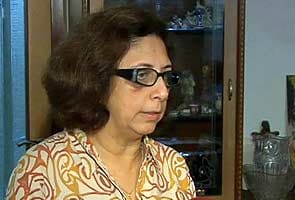 Mumbai:
The Mumbai excise department raided the home of a 55-year-old documentary filmmaker Priti Chandriani for possessing liquor for making chocolates at home. Priti was detained on Thursday evening and granted bail on Friday. The incident has caused an outrage in Mumbai leading to calls for repealing the 'archaic' Bombay Prohibition Act.
Priti lives with her parents in Worli in Mumbai. Making liquor chocolates is her hobby. She also has a well-stocked bar at home. But like most people she also fell victim to ignorance of 'archaic' laws that citizens are not aware about. Speaking to NDTV she said, "I am absolutely shell-shocked. I have never seen a raid in my life. We are law abiding citizens and to have excise officials turn up at our house and conduct raids is a trauma for us that we will never forget." Not only did the Excise department seize around 20 bottles of alcohol, they also took away her recipe books. Priti says the excise department officials told her that she needed a permit to have so many liquor chocolates at home.
Priti says she always has a well-stocked bar. "I go abroad. I always buy and so many people gift us bottles of wine and champagne as well. And just because we have a bar, we don't drink every day. So bottles collect. Does that make me a criminal?"
Speaking to NDTV, former Advocate General of Maharashtra Ravi Kadam said "It's really time to repeal these kind of archaic provisions. Whether we should have a prohibition act or not is debatable. But even if one has a prohibition law the fact that there are archaic provisions like these is apparent to one and all, both to the government and to the public. And only this case highlights the fact such provisions are there. It is time to repeal these kind of provisions."
According to Priti, many Mumbaikars these days entertain themselves at home because they want to avoid situations like drunken driving. And if incidents like these take place, she asks what will people in the city to do?
But many point out that more than the law enforcers; it's the law itself that is to blame. Ad filmmaker Alyque Padamse says "These laws were made a long time ago. Today the young population is rebelling against these laws and the government needs to wake up to it."
While policemen men like Vasant Dhoble have been accused of following the law in letter rather than in spirit, former IPS officer and lawyer Y P Singh defends enforcement officers. He says, "For a statutory official like a prohibition officer, his only job is to see what the law is and not what the law should be. If discretion is afforded to him to evaluate the wisdom of a law, in that eventuality there will be anarchy. The rule of law shall be shattered and there will be corruption all around. So I think it is for the government to weigh the pros and cons of these laws."
But well-known Mumbaikars like Mr Padamse make the more important point - the law is misused and there are vested interests at work to ensure such archaic laws prevail. He says, "The only remedy now is for a group of lawyers to get together and have this prohibition act amended. There should be no prohibition in Maharashtra according to me but that is only my opinion. In Bengal there is no prohibition. But this won't happen because there is a very strong nexus between prohibition and hafta (bribe), inextricably linked."
Meanwhile the virtual world is abuzz with reactions to the shocking state of affairs in cosmopolitan Mumbai. Mumbaikars are actually waiting see, what comes next as the moral police in the city have a field day.