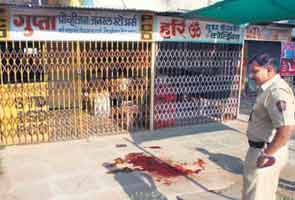 Mumbai:
Yet another RTI activist has found himself at the receiving end of death threats after he requested for information related to the cost of repairing a building in Marine Lines.
Sanjay Gurav (37) filed a complaint with the MRA Marg Police after he received a threatening call on March 22 from someone claiming to represent the interests of stakeholders of the Saint James Coat Building opposite the Marine Plaza hotel in Marine Lines.
The caller dialled Gurav's cell phone from a landline and told him that he knew where he lived. "He asked me to stop causing problems or else he would have to kill me.
He also asked me not to register a complaint against anybody," said Gurav, who has exposed several scams, including the misuse of the St George Hospital's ambulance in the past.
Gurav filed the RTI after he received information that the contractor repairing the building had far exceeded the amount of Rs.4.8 lakh quoted in his tender submission to the society.
The documents received in the reply showed that the cost had swelled to a whopping Rs.1.49 crore, close to 30 times the initial estimate.
Gurav also found that the contractor had a licence to accept and work only on projects that would cost no more than Rs.90,000. He complained to the MHADA and the BMC, and the MHADA's vigilance department has initiated an inquiry.
While the Ambedkar Marg police registered only a non-cognisable complaint of the threat received by Gurav and not an FIR, the activist also registered a complaint with Police Commissioner Arup Patnaik on Thursday.
"Gurav's complaint has been registered. The matter is under investigation," said Padmakar Juikar, senior inspector, MRA Marg police station.
When MiD DAY called the number from which Gurav had received the threatening call on Thursday, a woman answered and said the number was registered in the name of a private firm in the St James Coat Building, but refused to give more details. Another call in the evening was answered by a security guard.
The contractor, Ibrahim, said, "I am unaware of any complaints against the repair contract. I don't know about any threats issued to anybody or about any police complaint filed in the case."
Get Breaking news, live coverage, and Latest News from India and around the world on NDTV.com. Catch all the Live TV action on NDTV 24x7 and NDTV India. Like us on Facebook or follow us on Twitter and Instagram for latest news and live news updates.