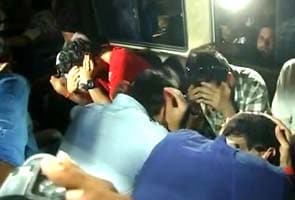 Mumbai:
TV actor Apurva Agnihotri, fashion designer Rocky S and former cricketer Bishan Singh Bedi's son have reportedly tested positive for drugs at a rave party held in Mumbai's suburban Juhu last month. They are among the 44 people who tested positive at the party held on May 20 in the famous Oak Woods Hotel. The owner of the hotel, Vishay Handa, has also reportedly tested positive.
"Apurva Agnihotri is among the 44 people who tested positive for drugs. His wife Shilpa's test results are yet to be received," said a police officer.
He also said the arrest of these 44 people is inevitable. However, since the party-goers are not accused of possessing 'commercial quantity of drugs', they would get bail after the arrest, he added.
According to the officer, they can later apply for drug rehabilitation in a government hospital as per section 64 (A) of the Narcotic Drugs and Psychotropic Substances (NDPS) Act. They can then apply to the court for exemption from further action.
Out of the 44, who tested positive, 27 had consumed cannabis, one had MDMA (better known as 'Ecstasy', a drug usually taken in a pill form), while 16 had consumed MDMA as well as cannabis.
The two people who tested negative for the drugs were identified as Amrit Sagar, grandson of Ramanand Sagar, director of television serial 'Ramayan' and Rahul Sughand.
Yesterday, Mumbai Police Commissioner Arup Patnaik had told reporters that out of the 46 samples tested at the Cooper, JJ and Bhabha hospitals, 97 per cent have tested positive.
Nearly 100 people were detained after the Mumbai police had raided the alleged rave party the hotel in suburban Juhu. IPL cricketers Wayne Parnell and Rahul Sharma were also among those detained from the party - their results, along with 44 others including 38 women, have not been received yet, police said.
According to the police, most of those detained were foreign nationals. They were subjected to a medical test to confirm if they had consumed drugs and then later released.
During the raid, the police had also seized 110 grams of cocaine and MDMA from the hotel.
A case was also registered against the hotel under the Narcotic Drug and Psychotropic Substances act (NDPS).