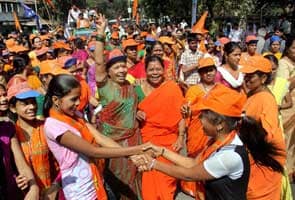 Mumbai:
The Shiv Sena-BJP combine has won the Brihanmumbai Municipal Corporation or BMC, India's richest civic body with an annual budget of 21,000 crore. Here are five big facts on this story:
1) Out of the 227 seats in the BMC, the Shiv Sena and BJP walked away with 107 seats between them. Uddhav Thackeray, who heads the Sena, said, "Those who wanted to destroy us have been destroyed themselves." He was referring to the Congress and Sharad Pawar's NCP, which fought the BMC elections together for the first time.
2) For the first time ever, the Congress and Sharad Pawar's NCP fought this election together. But with the BJP and Sena returning to power, the Congress conceded defeat earlier in the evening. The Congress won 50 seats while NCP could manage only 14. After Congress' defeat in Mumbai, Chief Minister Prithviraj Chavan congratulated Uddhav Thackeray, adding, "We were confident about our win in Mumbai, but that didn't happen. We need to introspect."
3) Raj Thackeray's MNS delivered a solid performance with 28 seats in the Mumbai elections.
4) Mr Pawar's NCP emerged as a clear winner in the Pune civic elections. It won 59 seats out of the 152 seats in the Pune Municipal Corporation (PMC).
5) The Shiv Sena-BJP retained the Nagpur Corporation. They have 68 seats between them out of a total of 145 seats. But in a major embarrassment, Mayor Archana Dehankar and Deputy Mayor Shekhar Sawarbandhe of Shiv Sena lost their seats.