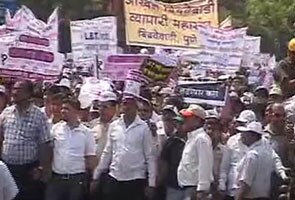 Mumbai:
Nationalist Congress Party (NCP) on Thursday said it was not against the imposition of Local Body Tax but wanted Maharashtra Chief Minister Prithviraj Chavan to address the concerns of trading community, which is strongly opposing it.
Addressing a press conference, NCP spokesman Nawab Malik said there is no harm in discussing concerns and grievances of the traders. "The traders also are not opposing Local Body Tax (LBT) but want the taxation system and the manner in which the tax will be recovered to be improved," he added.
"It's only through discussions, a solution can be found out," Mr Malik said.
To a question why NCP ministers did not raise the issue in Wednesday's cabinet meeting, Mr Malik said the agenda of a cabinet meeting is set by the CM and deliberations are held accordingly.
"It is precisely the reason why NCP has demanded a separate ministerial panel to discuss the LBT issue," Mr Malik said.
NCP appeals to the Chief Minister to convene a meeting of traders for discussions and the traders should also withdraw their strike, he said.
Mr Malik said state NCP president Madhukar Pichad has written to the CM asking him to convene a co-ordination committee meeting of the coalition partners to discuss FDI in retail, LBT, and other important issues faced by the government.
He said the last meeting was held more than four months ago.
NCP also wants discussion on high cost of MHADA flats in Mumbai, review of drought relief measures, appointments on state-run corporations and boards, district level committees among others.
He said few months ago, NCP had written to the Chief Minister for discussion on FDI in retail, but the meeting did not take place, he added.