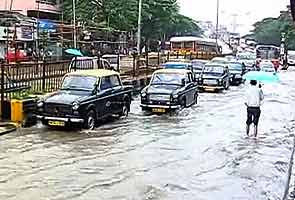 Mumbai:
Heavy rains continued to lash the metropolis for the second consecutive day today, disrupting rail and air traffic, besides causing a minor landslide.
According to Brihanmumbai Municipal Corporation's (BMC) Disaster Management Cell, the city recorded 57.6 mm of rains, eastern suburbs received 36.6 mm while western suburbs recorded 32.2 mm of rainfall from 8.30 AM to 2.30 PM.
Trains on Central line were running late by at least 20-25 minutes, while traffic on Western line by at least 15 minutes, officials said.
Road traffic was slow but there were no snarls on any of the arterial routes. However, air traffic was disrupted sometime this morning on account of the incessant rains that resulted in poor visibility, they said.
"Due to persistent rain and visibility dropping drastically below 450 meters, flight operations at the international airport were suspended twice between 1010-1020 hrs and 1030-1039 hrs. This resulted in two go-around of flights which landed safely later. All operations are presently normal," a Mumbai International Airport Limited (MIAL) spokesperson said.
Complaints of water logging were reported from areas like Hindmata, Andheri, Vile Parle, Borivali, Kandivali, Malad, Dharavi, among other. No incidents of house and wall collapse were reported, the officials said.
Heavy showers triggered a landslide in Vikhroli area in suburban Mumbai, civic officials said.
"The landslide took place at 8.30 am at Siddharth Nagar, however no injuries have been reported."
The weather bureau has forecast continuous rains, accompanied by strong gusty winds in some areas.