Highlights
Five people have reportedly died in the intense rain in Mumbai
It was the heaviest since July 2005, when floods paralysed Mumbai
The railways ran trains through the night to evacuate all passengers
New Delhi:
As heavy rain
30 times more than usual
flooded Mumbai and paralysed all services, many spent the night in their offices or homes of friends and strangers - wiser since the horror of July 26, 2005, when thousands were on flooded roads through the night.
Their only consolation was that today's a holiday for schools, colleges and offices.
Offices turned into dormitories for the night. After the suburban
train services resumed
, there was rush hour at dawn at key stations as employees made their way home.
When the rain didn't let up all morning on Tuesday, children were sent back home early from school and offices advised employees to go home. But it was too late for many.
"My office is in Churchgate. I left early and went to Bombay Central. But my train stopped, after which I walked on the flooded tracks till Lower Parel. I spent the night at my relative's office," said an office-goer heading home this morning.
The Met office has predicted more rain in the next 24 hours. Five people have reportedly died in the intense rain, heaviest since July 2005, when floods paralysed the city. Chief Minister Devendra Fadnavis said: "Please stay home unless there is an emergency and you absolutely need to go out."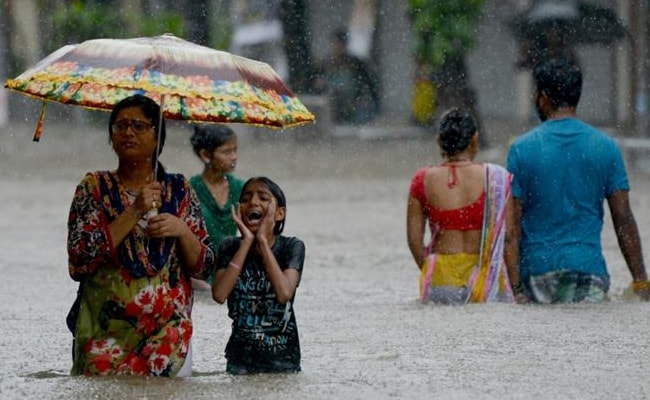 Local train services, which cater to millions of commuters daily, have mostly resumed as water recedes from tracks. The railways ran trains through the night to evacuate all passengers.
When trains stopped last evening, some angry passengers entered the station master's office at the iconic Chhatrapati Shivaji Maharaj Terminus. "We have deployed additional force where necessary," a railway police officer said.
A woman who paid Rs 200 per seat for the 35-kilometre train journey till neighbouring Thane, said: "I have been stuck at office since last evening and now have to pay extra to get back home."
A young woman getting into a car with a group of people said she stayed in office on her mother's advice. "We were told to leave at 12:30 pm when it was raining very heavily. We waited at the Parel station for three hours on a train," she told NDTV.
Another woman spent the night at her colleague's home near office. "My mother refused to let me return home. She had all relatives call me from various cities, even from the US," she shared.