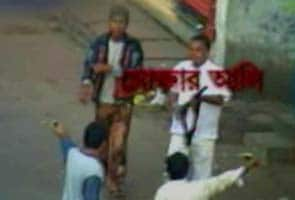 Kolkata:
Kolkata Police Commissioner RK Pachnanda was removed today over mishandling of clashes between two groups of students at a college on Tuesday, said sources. One policeman was shot dead while three others were injured in the clashes.
Surojit Kar Purakayastha will replace Mr Pachnanda as the city's new Police Commissioner, said Home Secretary Basudeb Banerjee.
The clashes began at the Harimohan Ghose College in the Garden Reach area of the city when nominations for a students' union election were being filed. The fight between the students, reportedly members of unions affiliated to the Congress and the ruling Trinamool Congress, spilled outside the college, where, the police says, some men armed with crude bombs and guns joined in. Video of the clash shows some men openly holding up and brandishing rifles.
The cop, Sub Inspector Tapas Chaudhari, was shot when he tried to intervene; he was rushed to hospital, where he died. The Trinamool has said no one from the party was involved in the incident and has blamed the Congress.
Chief Minister Mamata Banerjee visited the slain policeman's Thakurpukur residence today. She admitted names of several key accused were missing from the complaint filed over a policeman's killing but promised "law will take its course". "FIRs were not lodged against some more persons. Why it was not done I will inquire. It has to be done," said Ms Banerjee who holds the Home portfolio.
Sub Inspector Tapas Chaudhari has two young children and was the only earning member in a big family.
"It's a personal loss to me. I have known him and his family for a long time. The incident happened when I was at a programme at Nandigram. I heard it on the way," Ms Banerjee said today adding that his wife, Minati, would get all the financial benefits, including increment and promotion due to the officer till his scheduled retirement in 2017. The officer's daughter, Tanushree, would be given a job in a clerical post in the police department and the state government would bear the expense for the education of his son, the Chief Minister said.
She also said that the family would be given Rs 15 lakh as insurance accident benefit and another Rs five lakh by her government.