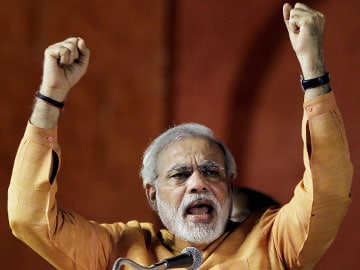 Kolkata:
Expecting large turn-out of supporters, the state unit of BJP has decided to carry out online registration for booking of seats at the rally of its prime ministerial candidate Narendra Modi in Kolkata on February 5.
"From January 8, we will start online registration of seats for fans of Narendra Modi who want to see him from a close distance. And if those registering online want to give a donation, then they can either pay online or by cheque," BJP state president Rahul Sinha said in Kolkata.
He, however, clarified that the party was not demanding money since supporters will be provided with seats at the rally irrespective of whether they gave donations or not.
"This arrangement is for fans of Narendra Modi between the age of 18-40," Mr Sinha said.
Hitting out at CPI(M) Politburo member Budhadeb Bhattacharjee for his criticism of Mr Modi, Mr Sinha said: "What do they think? Mr Modi will be PM with the support of the masses of India. And if the communists or Mr Bhattacharjee oppose the people's opinion, then they are the biggest fascists."