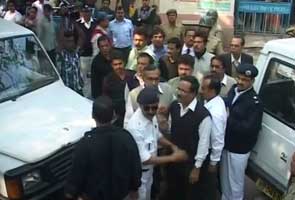 Kolkata:
Police today submitted the chargesheet under various penal laws, including culpable homicide not amounting to murder, against 16 people, accused of involvement in the AMRI Hospital fire tragedy which claimed 94 lives last year.
In the 126-page chargesheet, 16 people, who include directors and employees of the hospital, have been charged with offences under several sections of the Indian Penal Code (IPC) and the West Bengal Fire Services Act.
The chargesheet along with a voluminous case diary was submitted before the court of Alipore's Second Chief Judicial Magistrate Suparna Roy. Over 400 witnesses have been examined by police so far.
Meanwhile, the court confirmed the bail of the hospital's managing director Mani Chettri who was earlier granted conditional bail while it extended, till March 7, the judicial custody of six other directors. These include Shrachi Group chairman S.K. Todi and his counterpart in the Emami Group R.S. Goenka and four employees.
Other than Chettri, two more directors R.S. Agarwal and Pranab Dasgupta were also released on bail by higher courts earlier.
Three other directors Aditya Agarwal, Preeti Surekha and Rahul Todiwho have applied for anticipatory bail have been declared in the charge sheet as "absconding".
The prosecution has urged the court to arrange for the supply of copies of the charge sheet to the respective parties at the earliest to ensure speedy trial.
The December 9 pre-dawn blaze at 3.30 a.m in the hospital located in South Kolkata's Dhakuria choked to death mostly critically ill patients -- many of them in their sleep -- and two nurses, while most doctors and other staffers were able to get away.