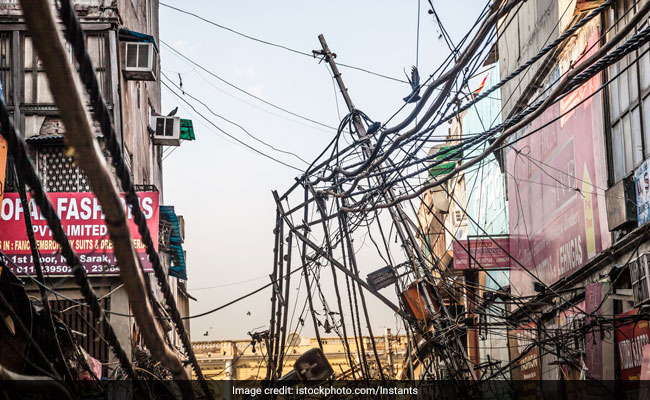 Kolkata:
Three persons were electrocuted and seven people injured during an immersion of a huge Ganesh idol at Baza Kadamtala ghat here in the early hours today, police said.
Puja organisers Bimal Sahani (37), Jitendra Sahani (28) and one Bitash Mondal (30) were electrocuted when an overhead electrical wire got detached from a pole and fell on the idol, after portion of the 25-feet tall idol got entangled in it.
The incident occurred at around 1 am when the organisers were carrying the idol for immersion in the Hooghly river.
"They were trying to cross the railway track when the idol's hand got entangled with the overhead electrical wires and fell on it. Mr Bitash Mondal, who was standing just behind the idol on the dais and managing the wires with the help of a wooden stick, was electrocuted. Two others were also electrocuted," a senior officer of Kolkata Police said.
"There were seven others who were injured and a sizeable portion of the idol caught fire," he said. Five of the injured, identified as Mahesh Shaw (22), Dinanath Ram (15), Amar Mondal (45), Arjun Chetri (20), Mohon Sahani (35) were being treated in two hospitals.
Two others, Asis Podder and Niranjan Sarder, were discharged from a hospital after treatment, he said. The puja organisers and witnesses present on the spot alleged that there were only a few policemen present at the ghat.
Rubbishing the allegations, police said that it was the height of the idol that caused the accident.
"Generally, we give permission to an idol not more than 18-feet in height, but in this case the Ganesh idol was taller. And that caused the problem leading to the death of the three persons. Had they followed the norms, the mishap could have been avoided," the police officer told PTI.
The police was trying to find out whether the organisers had the permission to hold the puja with such a huge idol.
(This story has not been edited by NDTV staff and is auto-generated from a syndicated feed.)