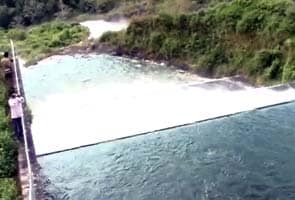 New Delhi:
As Tamil Nadu Government will not be sending officials to participate in the Mullaiperiyar negotiations to be held in Delhi, Kerala government on Saturday decided to file an interim petition requesting lowering of the water level in the dam.
The interim petition, which wants the water level to be reduced to 120 feet, is to be filed on Wednesday. This decision was taken after the meeting between Water Resources Minister P J Joseph and Kerala's legal adviser Harish Salve here.
The Tamil Nadu Government has already moved to the Supreme Court last week seeking to muzzle Kerala from spreading "canards" about safety of the British-built dam.
It is learnt that Kerala will be raising the issue related to lowering of the water level as every other matter pertaining to Mullaiperiyar is under consideration of the court.
After the meeting, Joseph said that the State Government has decided to knock the Supreme Court door as Tamil Nadu is going ahead with its "negative" attitude.