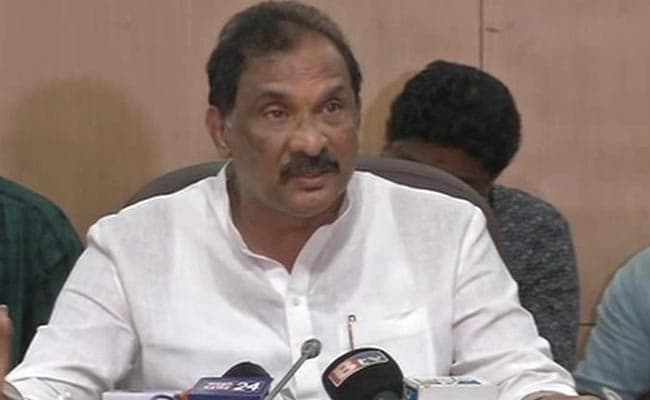 Bengaluru:
Former Minister K J George will be reinducted into the state cabinet tomorrow, after the Karnataka CID gave him a clean chit in the case related to the alleged suicide of DySP M K Ganapathy.
Mr George will be sworn in by the Governor at Raj Bhavan around 10.15 AM, official sources said.
Mr George, who was the Minister for Bengaluru Development and Town planning, had resigned on July 18, soon after a court in Madikeri, Kodagu district directed police to register an FIR against him and two police officers in connection with the suicide of 51-year-old Ganapathy.
Mr Ganapathy was found hanging from a ceiling fan in a room at a lodge in Madikeri on July 7, prior to which he gave an interview to a local TV channel saying the Minister and AM Prasad (now Commissioner for Traffic and Road Safety) and Pranab Mohanty (now on central deputation as Additional Deputy Director General of UIDAI) would be responsible "if anything happens to me."
The court had issued directions based on a private criminal complaint by Ganapathy's son, Nehal, requesting it to direct police to take up investigation against the minister and the officers for allegedly abetting his father's suicide.
Karnataka CID which investigated the case, on September 17 gave a clean chit to George and two senior police officers in its 'B' report, filed to a court in Madikeri.
Following Mr Ganapathy's death, the Government had come under attack from the Opposition, which had stalled the Assembly proceedings by staging a day-night agitation inside the House demanding a CBI inquiry, to which the government did not budge.
Both opposition parties BJP and JD(S) have expressed their strong exception to the reinduction of George into the cabinet.
According to sources, George who is considered to be a close confidant of Chief Minister Siddaramaiah, is likely to retain Bengaluru Development and Town Planning portfolio.
He had also served as Home Minister in the past.
Earlier, Siddaramaiah on September 5 had expanded his Cabinet by inducting M Krishnappa into his Ministry, he was allocated Housing department.
In a major revamp, the Chief Minister had sacked 14 ministers and inducted 13 members into his Council of Ministers on June 20 which had led to discontent within the Congress with several senior leaders openly coming out against the party's state leadership.