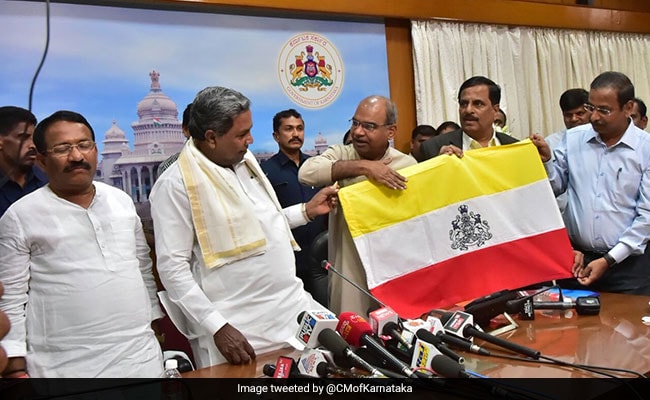 Highlights
Design of the flag or "Naada Dwaja" was cleared by the state government
It will now be forwarded to the central government for clearance
The flag has been linked to Kannada pride by the state's ruling Congress
Bengaluru:
A red, white and yellow flag designed for Karnataka was approved today by the state's Siddaramaiah government, which is set to ask for the Centre's permission to use it. The "tricolor" features the state's emblem, "
Ganda Bherunda
", which is a two-headed mythical bird.
The "
Naada Dwaja
" borrows two colours from a flag that is already associated with Karnataka and is "unofficially" used in functions including the state's formation day.
Ahead of elections due in a few months, a separate flag for Karnataka has been linked to Kannada pride by the state's ruling Congress.
"It was decided to have a flag for the state as a symbol of the pride of Kannada-speaking people. It was the intention, opinion and voice of Kannadigas," said Mr Siddaramaiah, who faced criticism when he set up a panel to choose a flag design in July last year
Critics have also drawn comparisons with Jammu and Kashmir, which is allowed to fly its own flag besides the national flag, because of its special status under the constitution.
The chief minister expressed confidence that the flag would be cleared by the centre. "There is nothing in the Constitution that says states should not have a flag," he said.
The flag plan has been at the centre of bitter sparring between the Congress and the main opposition BJP, whose leaders, including Shobha Karandlaje, accused the government of playing divisive politics. The BJP, however, went silent after public anger over its stand.
With an eye on polls, the state government has been pushing a pro-Kannada agenda for months. A few months ago, a "
Hindi Beda
" or 'No to Hindi' agitation drove the removal of all Hindi signboards from the Bengaluru Metro removed. Only Kannada and English signboards remain in the Namma Metro now.
Senior Kannada writer and activist Chandrashekhara Patil said, "Today is a historical occasion for Kannadigas because the government has responded very positively to this demand from the people of Karnataka."