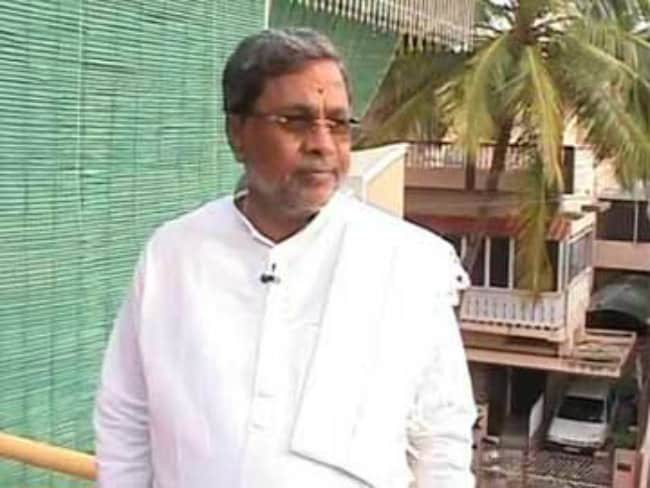 Bengaluru:
Karnataka Chief Minister Siddaramaiah today lambasted banks for not implementing the compulsory three-language policy in the state and asked them to henceforth ensure that they recruit staff who know Kannada.
"Our Government is committed to protecting and encouraging the art, culture and rich heritage of our state. Since Kannada is the administrative language in Karnataka... government wishes to take firm steps for implementing Kannada in all official activities," he said, speaking at the 132nd state level Bankers' committee meeting.
The CM said his government wanted to encourage use of Kannada in day to day banking activities. "It is required to ensure that employment opportunities are expanded for persons knowing Kannada in the banking services."
"It has been observed that banks, while preparing challans, passbooks, loan applications, account opening forms, fixed or term deposit certificates are not practicing the compulsory "Tribhasha Sutra (three language policy)," he said.
Hence, the facilities provided by nationalised banks and local banks are not reaching the rural masses, he said.
On the drought situation in the state and increasing incidents of farmer suicides, he urged banks to extend a helping hand to farmers in distress to enable them come out of the crisis and avoid taking the extreme step.
He said the average loan amount of a farmer for a long time has been around Rs 30,000 to Rs 35,000, which is "very low" and suggested that they should get need-based credit to cover their activities to increase productivity and income.
"Banks need to become more pro-active in addressing this issue as also in releasing the full quantum of loans, which is not being done in spite of subsidy and margin money being released by the Government," Mr Siddaramaiah added.
Expressing surprise that the Credit-Deposit ratio of the state was constantly static, he said that since the last few years it was ranging between 73 per cent to 76 per cent.
"Bankers must endeavor to initiate steps to increase CD Ratio by stepping up lending under all priority sectors."
Advising bankers to formulate a creative annual credit plan facilitating investment in high-tech agriculture, he said they should think of a paradigm shift in approach to agriculture so that the constant dependence on favorable monsoon reduces.
"Considering the demand under critical sector, I request bankers to intensify financing under the sector, particularly towards weaker sections of society in rural areas, which has to be closely reviewed by the state level Bankers' Committee," he said.