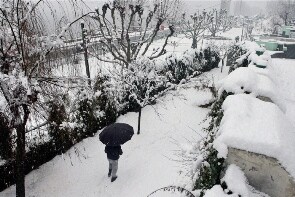 Jammu:
The cold wave intensified in Kashmir division, including Ladakh region, as the minimum
temperature across the Himalayan state dipped several degrees further, with Leh town freezing at minus 23 degrees Celsius.
Leh recorded the coldest temperature in Kashmir division at minus 23 degrees Celsius, which was 2.8 degrees lower than the minimum temperature recorded yesterday, a MET Department official said.
The maximum temperature recorded in Leh was three degrees below the freezing point.
In Srinagar city, the minimum temperature dipped by 1.3 degree C to settle at minus 5.4 degree C.
Kargil town witnessed an extremely cold night as the minimum temperature remained minus 18 degree C for the second consecutive night.
In Kashmir Valley, the tourist resort of Pahalgam in the south recorded a temperature of minus 11.6 degree C which was nearly four degrees lower compared to Tuesday's minimum temperature of minus 7.7 degree C.
Other parts of the Valley also witnessed the minimum temperature falling by several degrees.
Gulmarg skiing resort in north Kashmir recorded a minimum temperature of minus 9.5 degree C, which was slightly lower than Tuesday.
Qazigund, the gateway town to Kashmir Valley near Jawahar tunnel, was freezing at minus 10.6 degree C, two degrees lower than Tuesday, while Kokernag town in south Kashmir's Anantnag district witnessed a night temperature of minus 8.6 degree C.