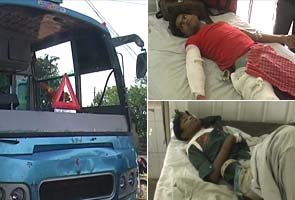 Jaipur:
In an act of cold-blooded murder, a bus driver Wednesday ordered tourists to de-board and then ran the vehicle over them in Rajasthan, killing six people, police said.
The horrific act took place near a petrol station in Karauli district, 180 km from here. Four of the dozen injured people were in critical condition.
The driver, identified as Raju, reportedly got into a scuffle with the tourists after they refused to pay for the fuel.
The furious driver then got into the bus and ran over the passengers who had de-boarded, killing six and wounding over a dozen others.
"The bus was coming from Agra and going to Kela Devi temple in Karauli," a police officer told IANS.
After the slaughter, the driver fled from the spot.