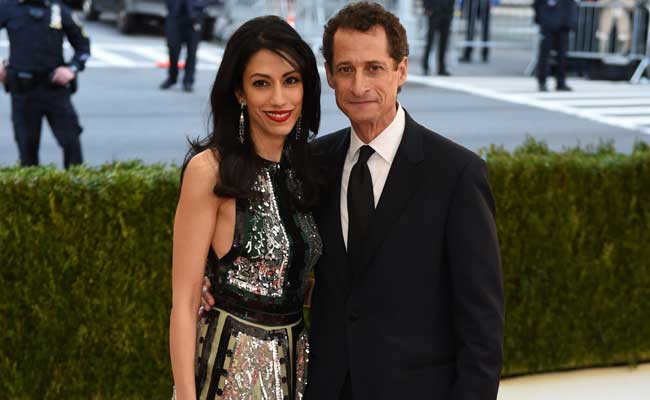 New York:
Huma Abedin, a close aide to presidential hopeful Hillary Clinton, announced in the midst of the campaign Monday that she was separating from husband Anthony Weiner following new revelations that he "sexted" another woman.
The New York Post published photographs and messages that the former congressman exchanged with a woman showing him shirtless and in bulging briefs with his four-year-old son asleep by his side.
"After long and painful consideration and work on my marriage, I have made the decision to separate from my husband," Ms Abedin, 40, said in a statement.
"Anthony and I remain devoted to doing what is best for our son, who is the light of our life. During this difficult time, I ask for respect for our privacy," she said.
Weiner was forced to resign his seat in Congress in 2011 after a similar sexting scandal in which he admitted to exchanging sexually explicit pictures and messages with at least six women.
Two years later, he ran for mayor of New York but the bid was derailed by allegations that he continued sexting under the name "Carlos Danger."
Mr Weiner then apologized to voters with Ms Abedin at his side.
A documentary released in May, "Weiner," chronicled that campaign and the painful burden shouldered by Ms Abedin, who worked on Clinton's first presidential campaign in 2008 and followed her boss to the State Department.
The latest revelations come in the midst of Ms Clinton's duel with Donald Trump for the White House, and the Republican presidential candidate wasted no time seizing on the announcement to attack his rival.
While calling Ms Abedin's move "a very wise decision," he questioned Ms Clinton's judgment "in allowing Mr Weiner to have such close proximity to highly classified information."
"Who knows what he learned and who he told? It's just another example of Hillary Clinton's bad judgment," Mr Trump said in a statement.
The Post said Mr Weiner shot the latest picture of his crotch in the early hours of July 31, 2015 while messaging with a 40-something divorcee - described as a supporter of Mr Trump - on the West Coast.
"Someone just climbed into my bed," Mr Weiner wrote.
"Really?" the woman responded.
At that point, according to the Post, Mr Weiner hit the send button.
"You do realize you can see you[r] Weiner in that pic??" the woman wrote, the Post said.
The newspaper said the picture was one of more than a dozen selfies, most of them showing Mr Weiner posing shirtless, that the 51-year-old sent to the woman.